BiggestNetworkingEvent will be hosting an amazing Virtual Business Networking Events Series.
About this Event
Please join us for our Biggest Networking Event Virtual Experience!
ENJOY THE EXPERIENCE OF SOCIAL BUSINESS NETWORKING AND ENGAGE WITH TONS OF NEW BUSINESS PROSPECTS EACH MONTH.
Thursday, July 23rd
4PM - 7PM
Be Social. Make Connections. Create Business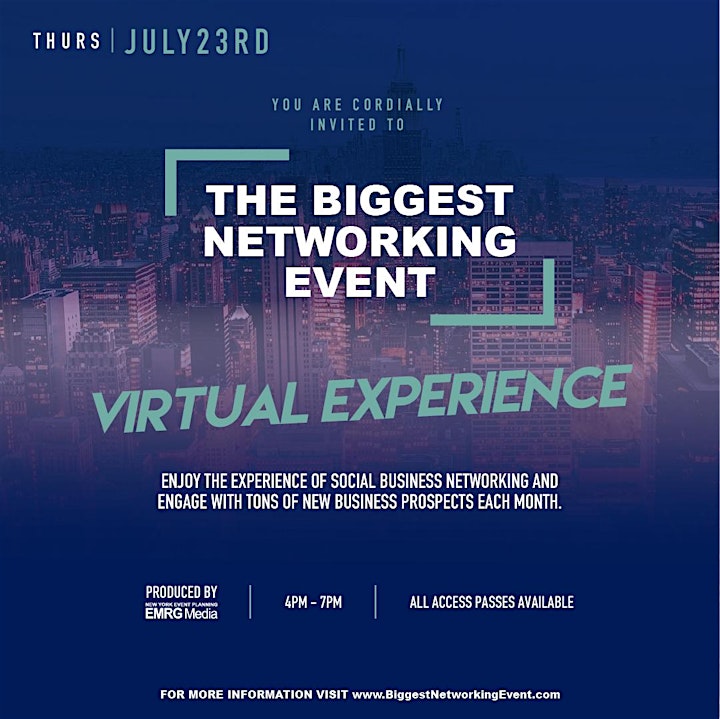 BiggestNetworkingEvent will be hosting an amazing Virtual Networking Events Series. We have heard from many of our clients and friends and with social distancing everyone is figuring out how to connect during these times while staying safe. Our Virtual Networking Events will solve that problem... Attend our events and engage with tons of new business prospects each month. You will have up to 7 minutes to connect with someone and then move on to the next person. You can exchange contact information with one another. If you get VIP Access you will get a portion of the list!
When attending our Virtual Event you can establish business relationships that are vital to your success as an owner, entrepreneur, industry leader or marketer.
These events will bring together hundreds of professionals in major industries including Advertising, Marketing, PR, Events, Finance, Fashion,Tech and more...
Virtual is here to stay. Even when things go back to "normal". We encourage you to build, maintain & grow your business now more than ever - so that you can come out of this ahead of your competition.
Please Join Us at our Virtual Event Experience on Thursday, July 23rd!
Visit: www.BiggestNetworkingEvent.com
Date and Time
Refund Policy