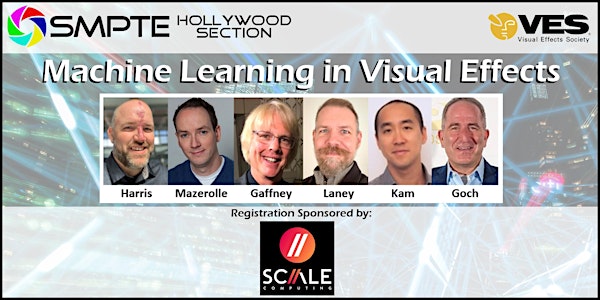 Virtual Meeting: Machine Learning in Visual Effects
SMPTE Hollywood and the Visual Effects Society will cohost a meeting exploring the impact of machine learning on visual effects.
About this event
SMPTE Hollywood and the Visual Effects Society (VES) will cohost a virtual meeting exploring the current and future impact of machine learning on visual effects. Autodesk's Will Harris, Foundry's Mathieu Mazerolle and Unity Technologies' Brian Gaffney will discuss how their companies are incorporating machine learning into software tools to make higher quality and more realistic visual effects and boost production speed. Visual Effects Supervisor Ryan Laney will describe the novel way artificial intelligence and machine learning were used to mask the identities of interview subjects in the award-winning HBO documentary Welcome to Chechnya.
"Machine learning is poised to transform visual effects production, accelerating workflows and paving the way for a new generation of astonishingly real visual effects," says Barry Goch, who will moderate the discussion. "Will Harris, Mathieu Mazerolle and Brian Gaffney will demonstrate game-changing technologies. Ryan Laney will share his experience in applying machine learning to a real-world production."
You can view a preview of the event here.
Panelists
Will Harris is Flame Family Product Manager at Autodesk, responsible for defining the product roadmap for Autodesk's Flame family of products. He works with customers to develop new tools to meet their needs and adapt to market trends. He has been involved in developing AI machine Learning tools for VFX and color finishing in Flame and other leading edge technologies. A 20-year industry veteran, he was a colorist, editor and visual effects artist before joining Autodesk in 2008.
Mathieu Mazerolle is Director of Product, New Technology, Foundry with over 25 years of engineering and product experience in the VFX, cloud and gaming industries. In his current role, he is involved in the development of creative software for digital design, media and entertainment. He previously worked for Amazon Web Services, Electronic Arts, Autodesk, Ubisoft and Digital Domain.
Brian Gaffney is Business Development Manager for Unity Technologies' Professional Artistry Group focused on ArtEngine. A workflow specialist with 25 years of industry experience, Gaffney has worked with Technicolor, PIX System, CODEX, Turbo Squid and Autodesk in support of visual effects, game development, content management and real-time 3D virtual production.
Ryan Laney is Visual Effects Supervisor at Teus Media, a producer of VFX for journalism. He has been supporting storytelling in media since 1994 and has worked with outstanding teams at Manex, ILM, Digital Domain, and Imageworks. Recently, he has been applying deep machine learning to documentary filmmaking, beginning with identity masking in the documentary film Welcome To Chechnya.
Victor Kam is the Senior Tech Art Consultant at Unity Technologies for ArtEngine. Victor has a background in Game Development working as an artist for Blackbird Interactive, Jetpack Interactive and as an environmental artist for Rabbit Hole Interactive in Vancouver, Canada. Victor has also been an instructor at the Vancouver Film School providing him with an excellent overview of how a range of tools are used and how to best maximize the creative power of ArtEngine.
Moderator
Barry Goch, Senior Editor, ColorTime, is an accomplished feature film and television finishing editor with credits including Spiderman: Homecoming, Passengers, Money Monster, Eye in the Sky and Game of Thrones. He is currently working on A Million Little Things (ABC) and a Netflix comedy special. Goch is a member of the Editorial Advisory Board and is West Coast Contributor for Post Perspective. He has written for Post Magazine and the Editors Guild Magazine. He also teaches post-production at UCLA Extension. He is a member of SMPTE, the Television Academy and the Visual Effects Society.
As always, SMPTE Hollywood meetings are free and open to all, even non-members.
Sign up to be notified about future SMPTE Hollywood Events: