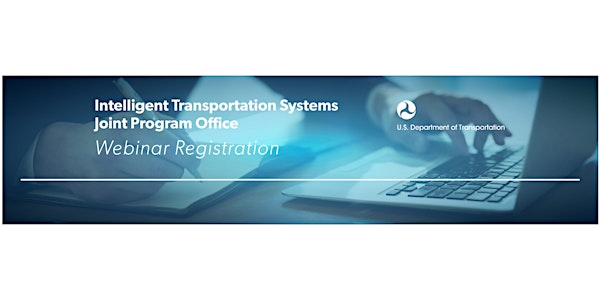 Virtual Information Session 2: ITS Deployment – Data for Decision Making
Virtual Information Session 2: Using the ITS Deployment Evaluation Databases to Plan Your ITS Projects
About this event
Background
The U.S. Department of Transportation (USDOT) Intelligent Transportation Systems Joint Program Office (ITS JPO) is hosting two virtual information sessions on "Intelligent Transportation Systems Deployment – Data for Decision Making" .
This second session will demonstrate how the data in the ITS Deployment Evaluation cost and benefit databases can be used to support and improve decision making related to ITS project investments.
While the events will be pre-recorded, the ITS JPO invites you to submit questions in advance.
Note: Closed Captioning services will be provided for this session.
Session Details
This event (pre-recorded) will demonstrate how to use the ITS JPO's ITS benefits, costs, and lessons learned databases to plan your next ITS project or potential investment. These ITS Databases summarize the benefits, costs, deployment levels, and lessons learned from over 25 years of evaluation research on the effectiveness of deployed ITS in transportation system operations. The session will demonstrate how these resources can be used throughout the ITS deployment lifecycle, illustrated with a sample project(s).
This virtual information session will:
Show how to conduct a search for the benefits of some selected ITS solutions.
Demonstrate how to use the costs databases and the interactive cost data visualizations to plan your project.
Share additional decision support resources and case studies.
Speakers:
Marcia Pincus, Program Manager, ITS Deployment Evaluation, USDOT ITS JPO;
Chris Bischak, Transportation Analyst, Noblis, Inc.; and
Kathy Thompson, ITS Analyst, Noblis, Inc.
Resources
To view the ITS JPO's Deployment Evaluation Program website and explore the Program's data and decision support resources, please visit: http://www.itsknowledgeresources.its.dot.gov/.
To learn more about the ITS JPO's research, please visit: www.its.dot.gov.