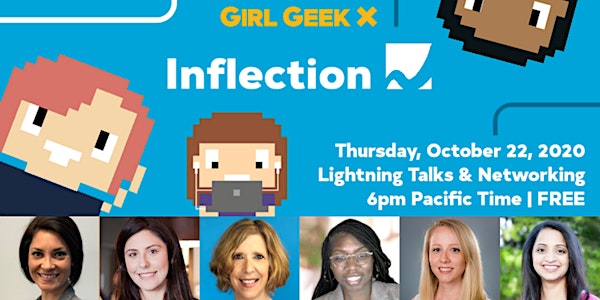 Virtual Inflection Girl Geek Dinner - Talks & Networking!
Hear from six women leaders at Inflection on topics that will inspire you to re-think how you lead your teams, manage your career, and more!
About this event
Join Girl Geek X founders Angie Chang and Sukrutha Bhadouria on Zoom for lightning talks featuring Inflection girl geeks, followed by networking, on October 22nd!
Lightning Talks: ✨
"What Are Your Core Values?" by Mikaila Turman, Inflection Vice President of Human Resources
Amazing perks, affordable benefit plans, and the perfect manager are all great things to have in an organization. However, if your core values do not match up with that organization's core values, then how great of a fit is that job going to be into the future? This talk discusses how to really think about what your core values are, and how you operate day to day because of your core values. Knowing and understanding your core values allows you to gauge how to look for companies that align with you, helps you work and/or manage others more effectively, and gives you a guiding light to look towards when making difficult decisions.
"Taking Inspiration From Business: Living With Greater Intention" by Tiffany Fereydouni, Inflection Director of Product Management
In product and in business, teams focus on the customer, roadmap, optimization, growth, and ROI. Organizations also have executive stakeholders and a board of directors to advise the company on \ optimal strategy and direction. At Inflection, we're going through the exercise of articulating our Target State, creating intention around how we want our organization, our technology, our products, and our business to evolve. What if the level of thoughtfulness, data-drivenness, customer obsession, and forward-thinkingness we applied to our business-oriented Target State could be applied to how we approach our lives overall, including outside of work? In this talk we'll explore the value of creating a personal Target state, defining personal success metrics, consulting with our personal board of directors, being mindful of energy management, and inviting playfulness and curiosity into our day.
"Marketing, by the Numbers" by Ellen Perelman, Inflection Chief Marketing Officer
Data underpins almost everything we do in Marketing at Inflection. In today's talk, we will explore how we use data to help us understand user behavior and make decisions, such as how much to invest in a campaign, what content to develop and where and when to revise our website pages, as a few examples.
"2020 Life Lessons Learned" by Mahu Sims, Inflection Director of Marketing Operations & Digital Marketing
This year hasn't been easy, but it challenged us to be more resilient, creative, and willing to learn. In this talk, we'll discuss learnings from Mahu's personal 2020 journey, how to take advantage of these times to learn more about yourself and what you want out of your career.
"RegTech on the Rise" by Izzy McLean, Inflection General Counsel
Like Inflection, many tech companies serve customers who either operate in highly regulated industries such as governmental contracting, finance, credit reporting, etc. or who purchase highly regulated goods or services. Often, these customers are not aware of the legal obligations that exist around the use of such regulated goods or services, leaving them vulnerable to lawsuits, penalties, or enforcement actions. Using a case study format, we'll discuss how Inflection has incorporated RegTech features into its services in order to provide compliance and regulatory advocacy for its customers, keep them safe and solvent, and create peace of mind.
"Bringing Engineers Closer to the Customers" by Avanti Ketkar, Inflection Vice President of Engineering
We often see the engineering teams focusing on innovation, speed and rigor. All these aspects of any software engineering team are crucial for the success of the business. However, one of most important factors that contributes to the success of the product, and is often overlooked, is how well the engineer understands the customer and their needs. There are many ways to bring them together: customer centric on-call programs, escalation management programs, participating in business reviews and many more. Inflection strives to bring our engineers closer to our customers and in turn, build products with excellent customer experiences. The talk will discuss how some of these initiatives can be implemented effectively across organizations.
Networking Hour: ✨
Don't miss connecting with fellow women in tech after Inflection talks ✨ — it's FREE to RSVP & participate! ✨
We can't wait to see your faces!
Agenda (Pacific Time):
6:00pm – 7:00pm — Welcome & Lightning Talks from Inflection girl geeks
7:00pm – 8:00pm — Virtual Networking with members of the Girl Geek X Community!
About our trusted partner:

At Inflection our mission is to build trust by harnessing the power of data. Our products and services allow companies to make better and faster decisions about who to hire, who to trust in their communities, and who to provide access to their businesses.
Our flagship brand, GoodHire, is a recognized leader in employment screening, with more than 80,000 organizations using our platform and services. Built for modern HR teams, GoodHire's online background check platform has streamlined what was once a highly manual process. Its user-friendly UI receives the highest NPS scores, and customers consistently rate it #1 in the industry for user satisfaction.
Inflection is hiring! Check out these open roles: ✨
Bring a friend - it's FREE to RSVP and attend! ✨
Inflection is headquartered in Silicon Valley, California, with offices in Omaha, Nebraska, and Kyiv, Ukraine, as well as remote employees located throughout the United States.