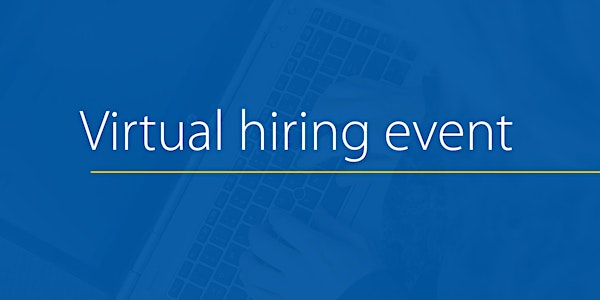 Virtual Hiring Event - December 7
Everyone is welcome to attend this virtual hiring event featuring jobs in a variety of industries in Minneapolis/St. Paul, Minnesota.
About this event
Everyone is welcome to attend this virtual hiring event which features jobs in a variety of industries. It's easy to join with a smart phone, tablet or computer.
Wednesday, December 7, 1-2 p.m.
This event will feature jobs in the Minneapolis/St. Paul, Minnesota metro area.
Each employer will feature information about their organization, job openings, interview questions and more. You will be able to chat with each employer to get your questions answered. Some employers may also offer virtual meetings or interviews.
How to attend:
• Register above.
• Next, visit elevatefutures.com and create an INDIVIDUAL profile.
• On the day of the event, simply log into the site using Microsoft Edge or Chrome, and click "click to visit the booths." Check in at the information desk for helpful tips or if you have questions about the event.
The employer information will be available on Elevate Futures from
8 a.m. to 9 p.m., if you cannot attend the live event.
Participating employers:
• ABLELIGHT - Direct Support Professionals/Leads, Designated Coordinators
• ACCORD - Employment Specialists, Case Managers, Community Support Specialists, Direct Support
• ANOKA-HENNEPIN SCHOOL DISTRICT – See website for openings
• ARROWHEAD ENGINEERED PRODUCTS - Warehouse, Forklift, Material Handlers
• BEECHWOOD, INC. - IHST Supervisor, ARMHS Practitioner, ILS Specialist
• COMCAST – Retail Sales
• DELTA DENTAL OF MINNESOTA - Associate Database Admin, Senior Sales Force Developer, Data Engineer
• FACTORY MOTOR PARTS - Delivery Drivers
• HAMMER RESIDENCES – Direct Support, Assistant Program Manager
• LAPETITE ACADEMY - NEW HOPE – Teacher/Assistant
• LIFESOURCE – Clinical Healthcare, Administrative
• M&M'S AT MALL OF AMERICA - Store Administrators, Sales Associates
• MEDIACOM - Broadband Installers, Front Counter Customer Service Reps
• MN DEPT. OF TRANSPORTATION - Foundations Drill Crew, Repair Worker, see website for more
• MN VETERANS HOME – CNAs, RNs, LPNs, Housekeeping, Food Service Workers
• MSS - Direct Support Professionals, Service Coordinators
• NORDIC WARE - Production, Maintenance Techs, Creative Art Manager, QA Inspectors, Washer Techs, more
• OMNI VIKING LAKES HOTEL – Housekeeping, Stewards, Servers, Bartenders, Barista, Cafeteria Attendant, Driver, Engineers
• SAINT THERESE - Nurse/Manager, NA, Home Health Aide, Dining Service, Cook, Recreation Assistant, Receptionist, Health Unit Coordinator
• SAS RETAIL SERVICES – Grocery Merchandisers
• SECOND HARVEST HEARTLAND - CDL Truck Drivers, Warehouse/Distribution, Volunteer Customer Service
• SILVERCREST PROPERTIES – Cleaners, Housekeepers, LPNs, CNAs, Cook, Chef, Server, Dining Services Director, Receptionist
• SPECTRUM HEALTH COMPANIES - Cooks, Dietary Aides, Home Health Aides, RN
• SPIRE CREDIT UNION – Contact Center Rep, Managers, Tellers, Bankers, Banking Operations Rep, Information Security Analyst, Fulfillment Center Reps, more
• TEKSYSTEMS – Mid, Senior Level IT Help Desk and Desktop Support
• UPS - Package Handlers, Package Drivers, Class A Tractor Trailer Drivers, Personal Vehicle Drivers, Driver Helpers
Questions?
• Lisa Cain, 612-596-1990, lisa.cain2@hennepin.us
This online event is free to all community members, workforce professionals, employment services staff, counselors and anyone interested in learning more about these job openings.
For more information go to Hennepin.us/employmentservices and CareerForceMN.com
This event is hosted by Hennepin County and promoted by CareerForce.