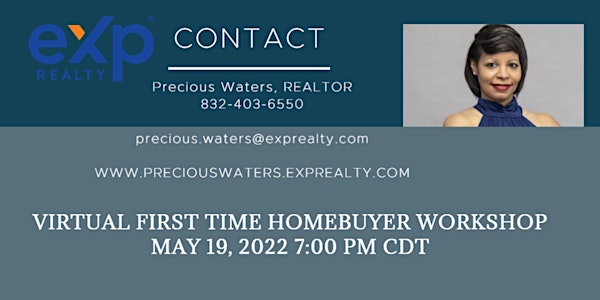 VIRTUAL FIRST-TIME HOME BUYER WORKSHOP-Houston,TX
Tired of renting? Ready to Move? Please join us for our Virtual First -Time Home Buying Workshop!
About this event
Homeownership is still possible! If you are a first-time home buyer you've come to the right place. We want to invite you to our FREE First-time Home Buying Workshop to answer all of your questions about the process!
Topics Covered:
1. The value of being a homeowner.
2. Why buying is better than renting?
3. Getting prequalified/Mortgage terminology
4. What does my Credit Score Need to be?
5. Required Documents
6. Finding the right home.
7. The Buying process.
8. Inspections & negotiation.
9. Preparing to move into your home.
10. Questions & Answers.
*Join Zoom Meeting:
https://us02web.zoom.us/j/83456644524?pwd=Mk8rTm5ZRDNZeEJPYlZvaGpvMVVndz09
Meeting ID: 834 5664 4524
Passcode: 530594
Contact REALTOR Precious Waters at  832.403.6550 for questions.
INFORMATION ABOUT BROKERAGE SERVICES
https://members.har.com/mhf/terms/dispBrokerInfo.cfm?sitetype=aws&cid=711509