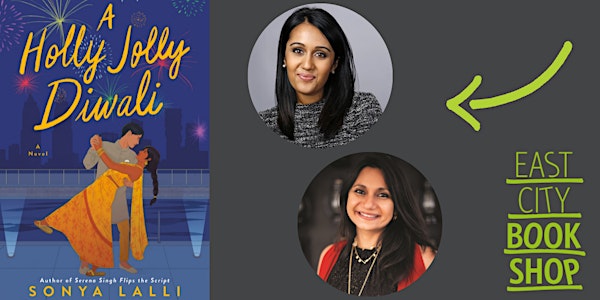 Virtual Event: Sonya Lalli, A Holly Jolly Diwali with Sonali Dev
East City Bookshop welcomes Sonya Lalli with her new book A Holly Jolly Diwali in conversation with Sonali Dev.
Refund Policy
Contact the organizer to request a refund.
About this event
East City Bookshop welcomes Sonya Lalli with her new book A Holly Jolly Diwali in conversation with Sonali Dev.
About A Holly Jolly Diwali
Twenty-nine-year-old Niki Randhawa has always made practical decisions. Despite her love for music and art, she became an analyst for the stability. She's always stuck close to home, in case her family needed her. And she's always dated guys that seem good on paper, rather than the ones who give her butterflies. When she's laid off, Niki realizes that practical hasn't exactly paid off for her. So for the first time ever, she throws caution to the wind and books a last-minute flight for her friend Diya's wedding.
Niki arrives in India just in time to celebrate Diwali, the festival of lights, where she meets London musician Sameer Mukherji. Maybe it's the splendor of Mumbai or the magic of the holiday season, but Niki is immediately drawn to Sam. At the wedding, the champagne flows and their flirtatious banter makes it clear that the attraction is mutual.
When Niki and Sam join Diya, her husband and their friends on a group honeymoon, their connection grows deeper. Free-spirited Sam helps Niki get in touch with her passionate and creative side, and with her Indian roots. When she gets a new job offer back home, Niki must decide what she wants out of the next chapter of her life—to cling to the straight and narrow like always, or to take a leap of faith and live the kind of bold life the old Niki never would have dreamed of.
About Sonya Lalli
Sonya Lalli is a romance and women's fiction author of Punjabi and Bengali heritage. Her books have been featured in Entertainment Weekly, NPR, Washington Post, Glamour and more. She lives in Vancouver with her husband.
About Sonali Dev
USA Today bestselling author Sonali Dev writes Bollywood-style love stories that explore universal issues. Her novels have been named Best Books of the Year by Library Journal, NPR, the Washington Post, and Kirkus. She has won numerous accolades, including the American Library Association's award for best romance, the RT Reviewer Choice Award for best contemporary romance, multiple RT Seals of Excellence, has been a RITA® finalist, and has been listed for the Dublin Literary Award. Shelf Awareness calls her "Not only one of the best but one of the bravest romance novelists working today."
She lives in Chicagoland with her husband, two visiting adult children, and the world's most perfect dog.
Find more at sonalidev.com.