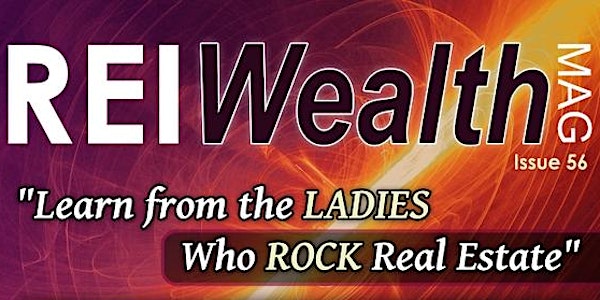 VIRTUAL EVENT: Learn from the Ladies Who ROCK Real Estate -- Connect Live!
Ladies Who Rock Real Estate Virtual Conference to Be June 26th - All Invited to Learn from Amazing Professional Women in REI
Refund Policy
Contact the organizer to request a refund.
Eventbrite's fee is nonrefundable.
About this event
DISCOVER REAL ESTATE INVESTING FROM A FEMALE PERSPECTIVE - THE LADIES OF REAL ESTATE ARE HERE TO HELP YOU TO INVEST PROPERLY
Real estate investors, agents/brokers, lenders and service professionals be sure to pencil in Realty411's new "Ladies Who Rock Real Estate Conference" to be held Saturday, June 26th, starting at 9 am.  This complimentary, online, co-educational summit will educate novice, as well as savvy investors, to make wise decisions for their portfolio, business, and overall life.
ALL ARE WELCOME TO ATTEND THIS FREE EDUCATIONAL EVENT.
TO DOWNLOAD THE AGENDA, PLEASE CLICK HERE!
A wide range of topics will be discussed, including: private capital and leverage, how to use real estate data to procure deals, as well as creative lease-options to secure single-family residential homes. Investing in mortgage notes will also be discussed in expert detail.
Real estate markets will be spotlighted and live chat will be available so that all guests can get their questions answered. Also discussed will be maximum mindset, plus how creative visualization techniques can improve health, wealth, and overall well-being.
Additionally, mass media tips will be shared to position our guests so they can become the go-to expert in their profession and market for 2021 AND BEYOND.
DON'T MISS THIS AMAZING EDUCATIONAL EVENT WITH LIFE-CHANGING INFORMATION.
Buying/Selling Notes
Private Lending TIPS
Short-Term Rentals
Buying & Holding Rentals
Fix & Flipping Properties
Creative Real Estate Advice
Tips for a Flawless Escrow
Landlord Rights Post Pandemic
1031 Exchanges for Upgrading
Market to DOMINATE Your Market
AND SO MUCH MORE....
Our inaugural "Ladies Who Rock Real Estate" had 250 RSVPs, with ladies and gentlemen joining in live and in real-time from around the nation. Now we expect even more guests for this ACTION-PACKED, CONTENT-RICH, FUN AND EXCITING day with the ladies who ROCK Real Estate Investing.
This VIRTUAL REI SUMMIT is a unique, exciting educational event that will provide knowledge, wisdom, and connections.
PLEASE NOTE: ONLY 500 TICKETS ARE AVAILABLE FOR THIS EVENT, PLEASE REGISTER TO SECURE YOUR SPOT.
Ladies Who ROCK Real Estate VIRTUAL SUMMIT
SATURDAY, JUNE 26TH, 2021 - STARTING AT 9 AM PT
DESIREE DOUBROX, CEO OF HOMWORK
TIME: Saturday, June 26th, 9:00 am to 9:15 am - PST
TOPIC: Welcome Message with Desiree Doubrox and Linda Pliagas
HANNAH KESLER, OPERATIONS MANAGER, THE MONEY MULTIPLIER
TIME: Saturday, June 26th, 9:15 am to 10:15 am - PST
TOPIC: Learn to Multiply Your Money Like the Wealthy Do - Discover How the 1% Increase Their Wealth, Effortlessly
TERESA GROBECKER, CEO, MBA, CRPC, REAL ESTATE AND MORTGAGE BROKER, INVESTMENT BANKER
TIME: Saturday, June 26th, 10:15 am to 11:00 am PST
TOPIC: What is Going on Behind the Scenes in the Real Estate Market? Plus, Forecast the Upcoming Residential and Commercial Sector for Success
LOLA LEVOY, OWNER AND PRESIDENT -- BEVERLY HILLS ESCROW AND BEVERLY HILLS DEFERRED EXCHANGE
TIME: Saturday, June 26th, 11:00 am to Noon
TOPIC: Discover Secrets to a Flawless Escrow Process -- Bonus: Learn the Mechanics Behind Successful 1031 Exchanges
ROBYN MANCELL - SENIOR EXECUTIVE, POWUR
TIME: Saturday, June 26th, 1:00 PM PT
TOPIC: Solar Energy is Disrupting the Real Estate Industry - Discover How to Capitalize on this Trend Today!
DESIREE DOUBROX, CEO OF HOMWORK
TIME: Saturday, June 26th, 2:00 PM - PST
TOPIC: Learn How the Work-at-Home Trend is Changing the Way Women Do Business and How You Can Capitalize on It
TINA D. LEWIS - BEST-SELLING AUTHOR, SHORT-TERM RENTAL SPECIALIST
TIME: Saturday, June 26th, 3:00 PM PT
TOPIC: Capitalize on the Travel Explosion in the Post-Pandemic Economy with Short-Term Rentals, Even if You Don't Own the Actual Property
STACEY JOHNSON-COSBY - REAL ESTATE SALES ADVISOR, REESE NICHOLS, KANSAS CITY, MO
TIME: Saturday, June 26th, 4:00 PM PT TO 4:45 PM PT
TOPIC: The End of the Rental Moratorium and the Economic Effect -- Important Information to Know About Landlords' Rights
For questions, comments or to learn about becoming a speaker at a future Realty411 event, please contact us: 805.693.1497 or info@realty411.com