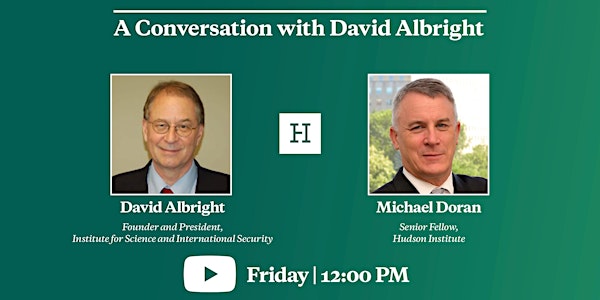 Virtual Event | A Conversation with David Albright
Please be advised: This event will be held virtually on the Hudson website.
Date and time
Friday, May 14, 2021 · 9 - 10am PDT
About this event
This event will premier here at 12:00 p.m. EDT, Friday, May 14.
Please join Hudson Institute Senior Fellow Michael Doran and David Albright—one of the few nuclear experts granted access to the Iranian Atomic Archive captured by Israel in 2018—for a discussion on the Iran nuclear deal.
The Biden administration is seeking to revive the Joint Comprehensive Plan of Action (JCPOA) with Iran. But what security does the agreement actually provide to the U.S. and its regional allies at this stage? New intelligence unearthed by Israel and the United Nations' nuclear watchdog shows that Tehran was much closer to obtaining an atomic bomb than the U.S. believed six years ago. What's more, Iran has maintained—and concealed—key elements of its crash AMAD Plan, which sought to produce five deliverable nuclear weapons. Will a re-implemented JCPOA stem the spread of nuclear technologies in the Middle East or accelerate them? Please join Hudson Institute for this important discussion.
Speakers:
David Albright, Founder and President, Institute for Science and International Security
Michael Doran, Senior Fellow, Hudson Institute
Program:
One-on-One Discussion
12:00 p.m. - 1:00 p.m.
About the organizer

An independent research organization promoting new ideas for the advancement of global security, prosperity and freedom.
Founded in 1961 by strategist Herman Kahn, Hudson Institute challenges conventional thinking and helps manage strategic transitions to the future through interdisciplinary studies in defense, international relations, economics, health care, technology, culture, and law.
Hudson seeks to guide public policy makers and global leaders in government and business through a vigorous program of publications, conferences, and policy briefings and recommendations.
Hudson Institute is a 501(c)(3) organization financed by tax deductible contributions from private individuals, corporations, foundations, and by government grants.