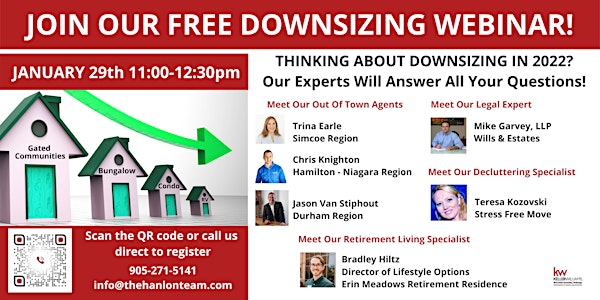 Virtual Downsizing Seminar
Are you thinking about downsizing in 2022? Our downsizing seminar is packed with helpful information from our top experts.
About this event
Our downsizing experts will each provide advise and tips on how to help make your downsizing move this year stress free.
Topics:
We have three real estate agents that will cover the regions of Durham, Niagara and Simcoe. Provide some insight into downsizing to smaller communities from the city.
Legal advice on preparing your will and understanding what happens to your estate.
Retirement Living is it right for you? Director of Lifestyle from one of Mississauga's top retirement residences will share insight into transitioning to a lifestyle community.
Decluttering and packing, how to get rid of "stuff" hear from our top expert on moving about how to start planning your move.