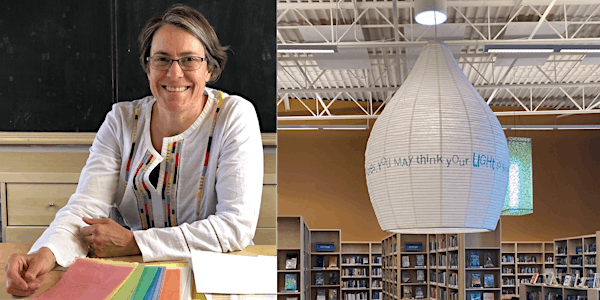 Virtual Demonstration Lecture: Illuminating the Paper Vessel
Interested in learning about paper lanterns? Join the Robert C. Williams Museum of Papermaking for this demonstration lecture Helen Hiebert
About this event
Join us for this virtual Lecture, Illuminating the Paper Vessel, with guest speaker Helen Hiebert, which will focus on Helen's artistic research into creating sculptural paper forms, many of them rooted in Japanese tradition. Helen will talk about and show the similarities and differences between the construction of Japanese lanterns (chochin) and inflatable paper sculpture ranging from hot air balloons (large scale) to kamifusen (small paper balloons).
She will highlight her recent project, Step Into the Light, a giant collapsible paper lantern, that she recently constructed during a residency at a library in Denver, which involved designing the form, constructing the armature, wrapping reed around the armature, and covering it with paper.
Helen will also share examples of her own inflatable paper forms and will demonstrate how these are constructed without an internal armature as well as samples of bendable paper – her own handmade abaca with embedded string and wire – which becomes sculptural as it dries and can be manipulated.
This program will be recorded and the recording will be emailed to all registered participants a few days after the program.