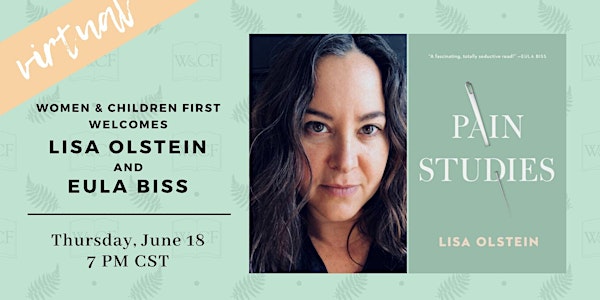 Virtual Author Conversation: Lisa Olstein & Eula Biss
Join us for a virtual conversation for PAIN STUDIES by Lisa Olstein. Olstein will be in conversation with Eula Biss.
About this event
his event will be held on Crowdcast. Registration is encouraged but not required. The Crowdcast access link will be emailed to registrants.
In this extended lyric essay, a poet mines her lifelong experience with migraine to deliver a marvelously idiosyncratic cultural history of pain--how we experience, express, treat, and mistreat it. Her sources range from the trial of Joan of Arc to the essays of Virginia Woolf and Elaine Scarry to Hugh Laurie's portrayal of Gregory House on House M.D. As she engages with science, philosophy, visual art, rock lyrics, and field notes from her own medical adventures (both mainstream and alternative), she finds a way to express the often-indescribable experience of living with pain. Eschewing simple epiphanies, Olstein instead gives us a new language to contemplate and empathize with a fundamental aspect of the human condition.
Lisa Olstein Lisa Olstein is the author of Pain Studies and four poetry collections published by Copper Canyon Press, most recently, Late Empire. Her honors include a Hayden Carruth Award, Pushcart Prize, Lannan Writing Residency, Essay Press Chapbook Prize, and fellowships from the Sustainable Arts Foundation, Massachusetts Cultural Council, and Centrum.
Eula Biss is the author, most recently, of On Immunity: An Inoculation, which was named one of the 10 Best Books of 2014 by the New York Times Book Review. Her second book, Notes from No Man's Land: American Essays, won the National Book Critics Circle Award for criticism in 2010. Her first book, The Balloonists, was published by Hanging Loose Press in 2002. Her writing has been supported by a Guggenheim Fellowship, a Howard Foundation Fellowship, an NEA Literature Fellowship, and a Jaffe Writers' Award. She holds a B.A. in nonfiction writing from Hampshire College and a M.F.A. in nonfiction writing from the University of Iowa. Her essays have recently appeared in The Believer, Harper's, and The New York Times Magazine.
Accessibility: Our store is wheelchair accessible and has one accessible restroom. Seating is first-come, first-serve, but we are happy to reserve seats for people with disabilities. We have LED lighting that can be adjusted with dimmers. Please call the store at 773-769-9299 the day of the event if you need a reserved seat or have additional questions.