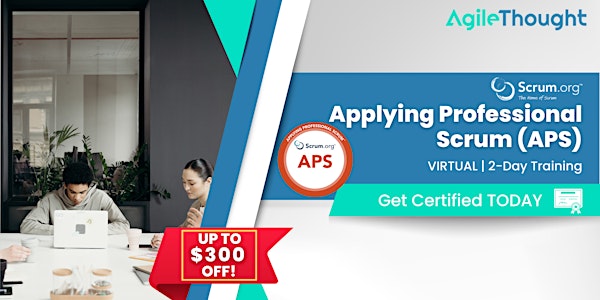 Virtual Applying Professional Scrum™ (APS) Course February 9 & 10, 2023
This virtual APS™ course is a 2-day course that teaches Scrum by experiencing what it's like to deliver products using the Scrum Framework.
Date and time
February 9 · 6am - February 10 · 2pm PST
About this event
Virtual Applying Professional Scrum™ (APS)
A Team-Based Training to Solidify Your Knowledge Through Practice
Applying Professional Scrum (APS)is a two-day, easily accessible virtual course that provides the foundational knowledge needed to work with Scrum in a highly practical way. The course is a combination of instruction and team-based exercises where students experience how the Scrum Framework improves product delivery efforts. The course also includes a free attempt at the globally recognized Professional Scrum Master I certification exam (PSM I).
What you will learn
Over the two days, students experience Professional Scrum: learning the framework and gaining insights into overcoming complexity, with team-based collaboration and self-organization as essential elements in mastering Scrum. Students work together virtually as a team in a series of Sprints to build a product, thereby facing real-life problems. The rules, roles, and principles of Scrum are leveraged during these exercises. From its emphasis on the practical application of Scrum, the course exposes common missteps and misunderstandings so students grow a higher awareness of the associated symptoms. The course provides prescriptive guidance to avoid going off track and keep Scrum healthy.
Course Objectives
Gain a clear understanding of the foundational elements of Scrum and their coherence
Learn how to identify common pitfalls and dysfunctions
Gain experience collaborating with Scrum Teams and stakeholders
Increase business agility
Course Topics
Fundamentals of Scrum
Exploring the Scrum Framework
Deeper into the Scrum Framework
Planning with Scrum
Getting started
What to Expect
This is a stringent curriculum developed by Scrum.org including the co-founder of Scrum, Ken Schwaber The training includes an immersive learning format with virtual training using a virtual whiteboard and virtual team rooms. Creating an actual product during the class using the scrum framework within a scrum team.
Who Should Attend
APS is excellent training for organizations, teams, and anyone wanting to experience the way of working in Scrum. The course also provides the foundation of knowledge needed for accountability-focused training for Product Owners, Scrum Masters, and Developers within the organization. Whether you are getting started on your first Scrum effort or refreshing your knowledge, this course gives students the knowledge and direction to start using Scrum immediately after the class. We also suggest that you read through the APS subject areas.
Certification Assessments
All participants completing the APS course will receive a password to attempt the Professional Scrum Master I (PSM I) assessment. APS class participants who attempt the PSM I assessment within 14 days of the class and do not score at least 85% will be granted a 2nd attempt at no additional cost.
PMI PDU Credits
Students of Scrum.org courses are can Project Management Institute (PMI) PDU credit: 14 PDUs after attending a two-day Applying Professional Scrum (APS) course. Please note that PMI PDUs are earned for course attendance and not for passing a Scrum.org assessment. Students can claim PDUs under PMI's "Education courses provided by other third-party providers" category. You can claim your PDUs online at https://ccrs.pmi.org. Find instructions here.
Trainer
Eric Landes is a Scrum.org Certified Professional Scrum Trainer. He is experienced in working with small and large enterprise development organizations and individuals. His years of experience as an agile coach, DevOps Consultant, and Technical Architect contribute to his ability to help organizations transform.
Eric has presented on Kanban, Unit Testing, agile and other topics at many conferences and user groups. Eric is deeply skilled in agile/Scrum and DevOps and has introduced agile to many different teams using Scrum, Kanban, and XP methodologies. At AgileThought, this has included introducing DevOps practices such as Continuous Integration, Infrastructure as Code to large enterprise development teams. He has also helped improve quality practices within teams. These practices include Behavior Driven Development, Continuous Testing, and collaboration techniques.
*AgileThought reserves the right to cancel or adjust the training dates and will confirm all dates at least two weeks prior to the training. If a class is canceled, we will work with you to select a new date or provide a refund in the amount of the purchased price of the training. Training is not transferrable and not cancellable.
About the organizer
AgileThought partners with companies to envision, build, launch, and maintain software products that run their enterprises and provide innovative service to their customers. Our mission is to fundamentally change the way people, organizations, and companies view, approach and deliver software projects.