Event Information
Refund policy
Refunds up to 7 days before event
Eventbrite's fee is nonrefundable.
Description
VIRTUAL 2020 ADCIRC Week
Every year, the ADCIRC Community comes together to share experiences, discuss, plan, and build capacity for coastal ocean modelling with ADCIRC.
THIS YEAR WE WILL HAVE OUR FIRST EVER FULLY VIRTUAL ADCIRC WEEK!
The 2020 ADCIRC Week will consist of a 2 day Users Group Meeting and a 3 day intensive bootcamp-style training event, held March 30 to April 3, 2020, and held VIA ZOOM MEETING in cooperation with the Louisiana Sea Grant, Louisiana State University and The Water Institute.
The two day ADCIRC Users' Group Meeting is informal with a commitment to open discussion of shared experiences, allowing the user community to advance their knowledge and skill in developing, implementing, and applying the ADCIRC family of models. Student participation is strongly encouraged. The registration deadline to secure a 20 minute presentation time slot is 1 March 2020.
Users Group Meeting Content
The agenda is presently being planned with 20 minute presentation time slots intended to spawn interactive discussions. Some possible general topics for the meeting include the following:
compound flooding in the ADCIRC context
model development (coupling, 3D, DG, mesh generation, winds, waves, etc.)
model applications (focusing on ADCIRC model capabilities and performance)
real-time forecasting using the ADCIRC models and operational issues
pre/post processing issues
Suggestions for other topic areas are welcome.
When registering for the ADCIRC Users Group Meeting, you will be asked whether you intend to present at the meeting, and if so, what the title of your presentation will be. You can consider your presentation accepted unless we contact you to indicate otherwise. The registration deadline to secure a 20 minute presentation time slot is 1 March 2020.
We will also be hosting an ADCIRC Poster Session VIA SHARED GOOGLE DRIVE. We are looking forward to talking with you about your posters!
Users Group Meeting Agenda
Monday, 30 March, 9am-4pm
Keynote Address
Compound Flooding in the ADCIRC Context
New Features, Applications, and Experiences
Tuesday Morning, 31 March, 9am-2pm
Novel Technical Contributions
ADCIRC v54 Release Announcement
We are looking forward to seeing you at the VIRTUAL 2020 ADCIRC Users Group Meeting!
ADCIRC Boot Camp Content
Introduction to ADCIRC and SMS (Plenary, Wednesday-Friday, 1-3 April VIA ZOOM MEETING)
Dr. Jason Fleming of Seahorse Coastal Consulting will cover the nitty gritty basics of ADCIRC input files, output files, and the detailed functioning of the code. It is helpful for complete newcomers who will make their own models, and is also valuable for ADCIRC analysts with some experience to learn how to go deeper into the meaning behind the each model parameter.
ADCIRC Topics:
Comprehensive coverage of ADCIRC's fort.15 (control) file, each parameter, line-by-line
Nodal attributes file (fort.13)
Output files, including hotstart files
Use of parametric vortex wind models for tropical cyclones
Discussion of boundaries and boundary conditions, including tidal B.C.s
and levee B.C.s
Building the ADCIRC code
Output visualization and validation tools
Dr. Alan Zundel of Aquaveo will teach SMS for ADCIRC; the SMS software from Aquaveo is used to visually create and modify input files for ADCIRC and is widely used in the ADCIRC community for this purpose, as well as visualization of results. For these reasons, knowledge of the SMS software is practically required for new ADCIRC users. Please download the latest version to prepare for this session. We will email you a trial license key.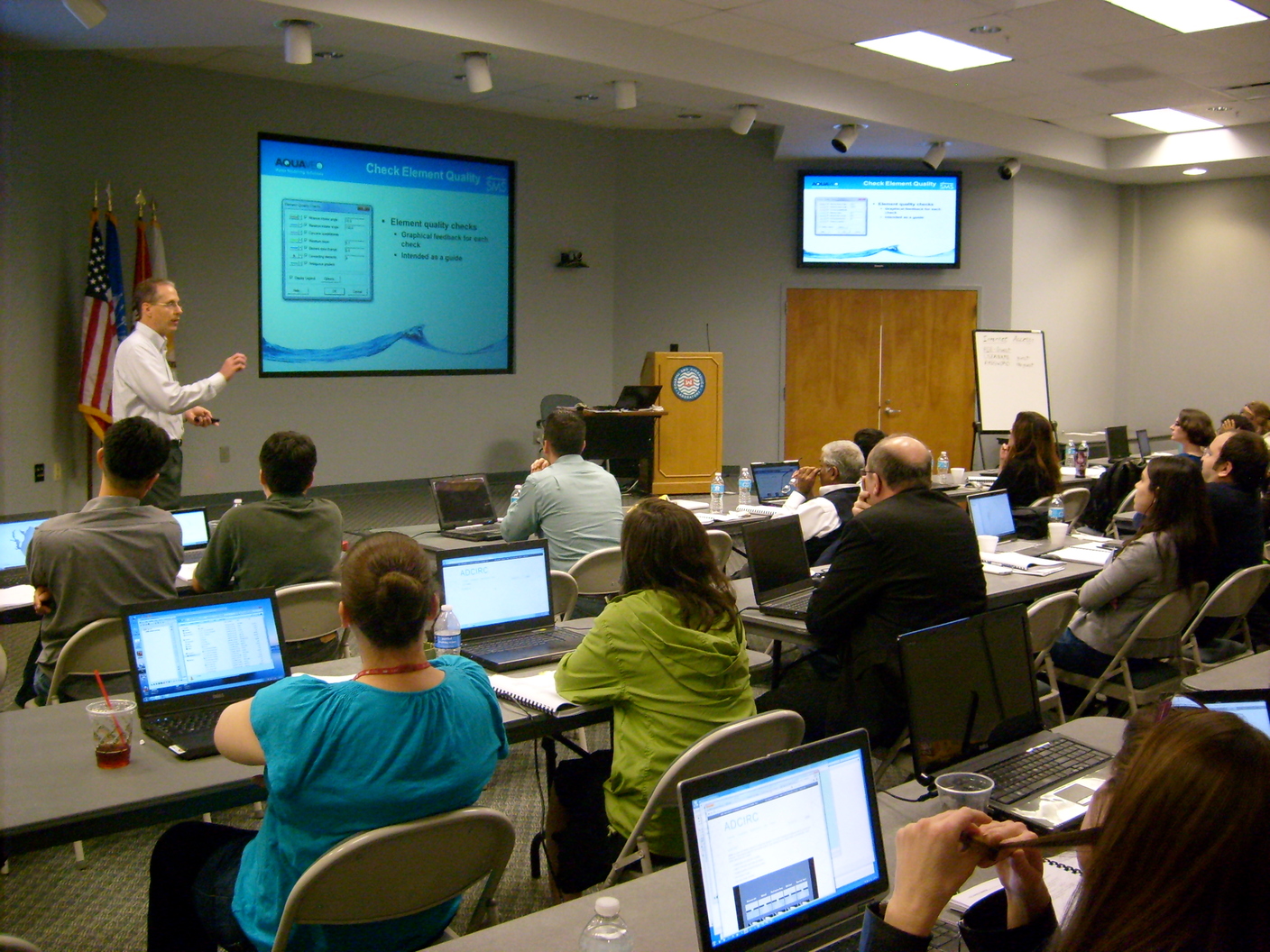 SMS Topics:
The modeling process within SMS (overview)
Background data (images, surveys/LIDAR/DEM)
Conceptual model (vector coastline databases, features, GIS)
Mesh generation for ADCIRC
Mesh editing
ADCIRC parameter specification including nodal attributes
Engaging Format
The presentation style will be a mix of lecture, demonstration, and interactive discussion: more like a college classroom than a set of conference presentations. The instructors will also specify hands-on work via Zoom meeting for use on the participants' laptop or PC.
Value
The three days that a new ADCIRC user invests in this training event could save weeks of project time spent in guesswork and trial-and-error. The training also provides value for more experienced users, because the discussion includes the underlying rationale behind various features, as well as highlighting time-saving tips and tricks that are not especially prominent in the documentation.
Virtual Discount
Due to the change to a virtual ADCIRC Boot Camp this year, the regular price will be discounted by $90 because we are avoiding catering costs.
Academic Discounts
Academic discounts for the ADCIRC Boot Camp are also available at the following levels:
80% discount for full time students with student ID ($950*0.2-90 = $100)
50% discount for postdocs, with email of support from supervisor ($950*0.5-90 = $385)
25% discount for academic faculty ($950*0.75-90 = 622.50 )
Please email sarah.lipuma@seahorsecoastal.com for a personalized promotional code to claim your academic registration discount before you register.
Testimonials
Some representative feedback from past attendees:
"I liked the format of the adcirc portion of going through each parameter. Thanks again, I think we all got a lot out of it."
"I thought the Boot Camp was awesome. For researchers like me, it was extremely beneficial to get into the guts of the mechanisms behind the scenes of the fort files. ... [the] format was engaging."
Be There
We are looking forward to working with you this year at the first ever VIRTUAL 2020 ADCIRC Week held VIA ZOOM MEETING!

Date and time
Location
Refund policy
Refunds up to 7 days before event
Eventbrite's fee is nonrefundable.