Victory for Veterans is a virtual 5K walk, run or cycle sponsored by WoodmenLife Georgia Central to honor the 20th Anniversary of 9/11.
About this event
Join others as they walk , run or cycle the virtual 5K to honor the veterans and first responders of September 11, 2001 on the 20th anniversary of that terrible day in our country's history. 9/11 is a day of service across America. What better way to honor and remember this day than to pay tribute to the many first responders and veterans who stepped up to defend our country and our freedom?
You can walk, run or cycle this 5K at anytime before or on September 11,2021. Make it an event for your family and friends in your community as an act of service. (Please follow your community's COVID-19 guidelines.)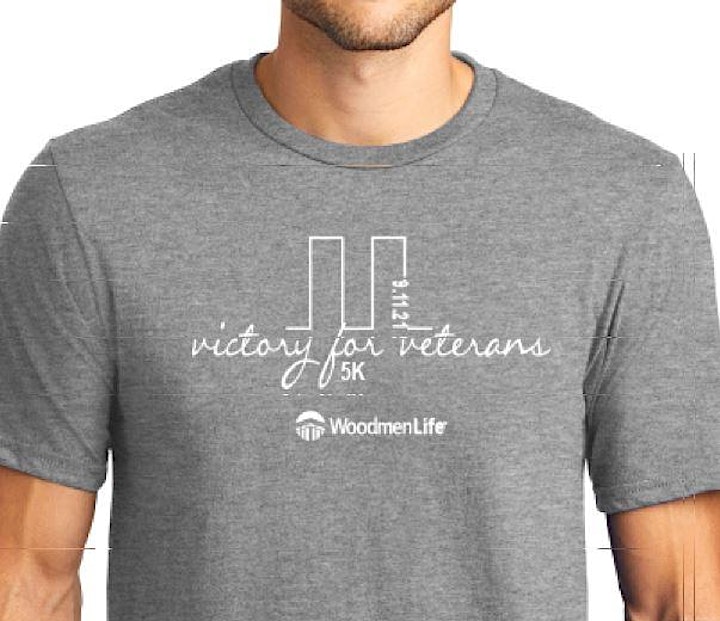 Virtual Victory for Veterans 5K, Walkers Runners, and Cyclists, with your $10.00 registration you will receive the Victory For Veteran's official T-shirt for FREE if you registered before August 13 at 8:00 AM ET (limit 250). Participants that register after August 13, 2021 will receive their event shirt after the virtual event. The shirt will be mailed directly to you to commemorate the 20th anniversary of 9/11 and show your commitment to veterans and first responders. Note: We cannot ship to PO Boxes.
How does my WoodmenLife Chapter become a Chapter Sponsor? Make a donation of $200 or more to your local VFW/ or American Legion or First Responders. Send a copy of your check and form and a photo of your presentation form to your Regional Community Outreach Advisor Glenda Davis at WoodmenLife 1515 Suite F Macon, Georgia 31210. As a special Thank you to your chapter for your donation chapters number and name will be printed on the back of the shirt . Chapters form , copy of check must be received by August 12, 2021 at 8 :00 am. ET to ensure that your chapters number and name are added to the back of the event -T-shirt.
All profits from the Virtual Victory for Veterans 5K will benefit local VFW, American Legion and First Responders of Central Georgia.
Organizer of Victory For Veterans Virtual 5K Run Walk or Cycle
WoodmenLife is a life insurance company, but we're also much more than that. When you choose WoodmenLife, you're joining nearly 700,000 people like you who value family, community and country. You have a choice in planning your financial future; place your trust in an organization that dedicates money to your local community. We've been Standing Strong for Generations,® with more than 125 years of financial stability, serving families and celebrating America.