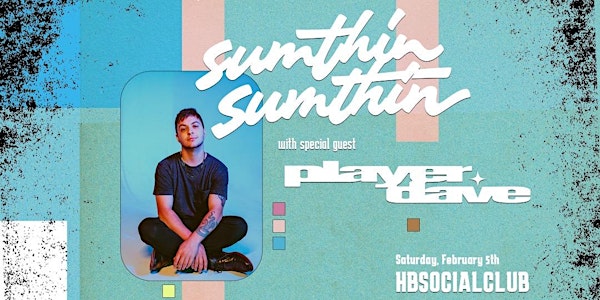 Vibe Lab Presents sumthin sumthin with Player Dave
Vibe Lab Presents sumthin sumthin with Player Dave
When and where
Location
Hawaiian Brian's | HB Social Club 1680 Kapiolani Boulevard #2nd floor Honolulu, HI 96814
Refund Policy
Contact the organizer to request a refund.
Eventbrite's fee is nonrefundable.
About this event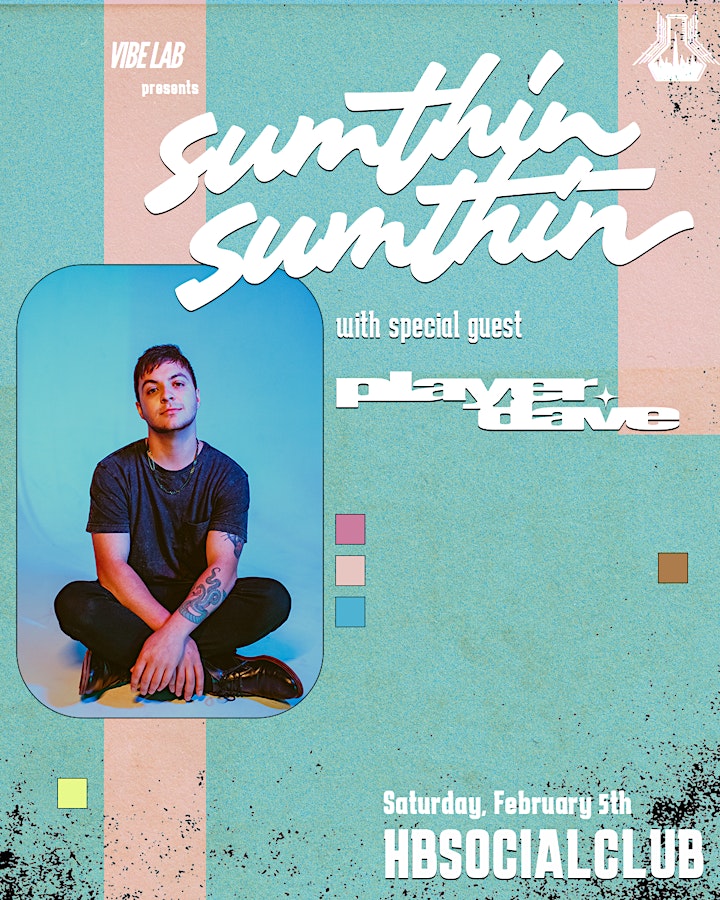 Vibe Lab Hawaii is excited to bring you sumthin sumthin with Special Guest, Player Dave at HB Social Club in the heart of Honolulu. Doors open at 8pm.
Coming from the small surf town of San Clemente, California, Conrad Woodul, better known as sumthin sumthin has become one of the most highly admired artists within electronic music in just a few years. His passion for music was born at age four; creating drum sets in his kitchen with pots and pans and kitchen utensils. A few years later he picked up the electric guitar followed by the piano, teaching himself how to write and compose music before taking lessons. After playing in bands for some time he decided he wanted to have full control over the music he was creating and found his way into producing electronic music. Conrad has been able to develop a sound that is truly his own; brimming with originality and constantly pushing boundaries within electronic music.
sumthin sumthin first began making waves online in 2016 with a slew of impressive originals, collaborations with Holly and Great Dane, and releases on tastemaker labels Rauthentic and Daruma. In 2017, Conrad unveiled 'Bloom,' a breakout release that became a staple in DJs sets and a mainstay at festivals. Building on that momentum, he released his groundbreaking debut EP AFTERGLOW on Quality Goods Records. The four track project fused stunning melodic soundscapes with vicious bass and some of the most exciting sound design of the year. Becoming one of Quality Goods Records premiere artists, Conrad worked closely with UZ, releasing an official remix for 'Lobby,' a collaborative sample pack and joining him on the Rebirth Tour across the United States, Australia and New Zealand.
2018 saw sumthin sumthin continuing his artistic evolution with the beautifully melodic meets menacing sound of 'Mirrors' and the mind-melting banger 'Confused (feat. Jawnza).' Conrad's output elevated further with the release of a myriad of exceptional singles including 'Cut That,' 'Vivid,' 'Gryme,' and 'Drip'. Looking to create lifelong memories with the people he loves most, Conrad also joined his longtime friends as a member of the producer collective and label Lost Dogz. Capping of the year with a bang, sumthin sumthin recently released When Ghosts Fall Asleep via Zeds Dead's Deadbeats imprint. The release served to further cement his status as one of the most innovative and exciting producers out.
sumthin sumthin has been a long-time underground favorite whose star continues to grow. His music has been supported by TroyBoi, Bassnectar, Zeds Dead, Subtronics, Louis the Child, HWLS and many more. He's toured with heavyweights Bleep Bloop and UZ and played a wide array of festivals including: Lightning in a Bottle, Shambhala, Nocturnal Wonderland, and Emissions. With a unique approach and unbridled creativity, expect sumthin sumthin to continue carving out his own lane in the music industry.
sumthin sumthin Links:
"An accumulation of his honed sound design skills, sumthin sumthin pulls listeners into a dark world filled with wonky bass drops, lush synths, and unforgettable experimentation." - Run The Trap
"It's almost impossible to describe the sound of sumthin sumthin, as his frenetic, regularly shifting style refuses to be pigeon-holed." - Magnetic Magazine
"With an utterly innovative approach to production and a talent that seems to keep on developing and crossing into new directions, we were super keen to chat with sumthin sumthin." - YourEDM
"sumthin sumthin truly is something special; a producer who can do it all. From crafting monstrous dark bangers to painting stunning melodic soundscapes, and at times bringing both together in a single song." - FUXWITHIT
PLAYER DAVE
Player Dave​ ​is a force against calamity. Born Charlie Sahm of San Clemente, the luminous producer is a testament to the therapeutic profit of sound. Steeped in ambition and intrigue, Sahm was raised exploring a comprehensive array of instruments. Growing up surveying the wonders of piano, bass, percussion, violin, cello, and more, his larger-than-life aspirations were far more prodigal than the average teenager. Between a social slump and a spine injury, Sahm found solace in writing rhymes. But as a natural-born innovator, his penchant for poetic prose wouldn't be satisfied until he had the instrumentals to match. This niche predicament ultimately forged the foundation of his magnum opus- Player Dave. Originally inspired by the golden age of SoundCloud, Player Dave distills beat driven hip-hop and psychedelic bass to define his signature bravado. To no one's disbelief, the North American club scene and festival circuit took an immediate shine to his innovative drawl. Stupefying stages from the West Coast to the East coast, and appearing at festivals like Lightning in a Bottle and Symbiosis, so began Player Dave's ascent to legend status. But in 2019, Player Dave retracted from music when creation was replaced with crisis. Following a series of rehabilitation, reformation, and redemption, Player Dave returns in 2021 with sober manifestos on recovery. The genesis of a new era for the producer begins with his forthcoming studio album ​Where The Wind Blew Me, w​ here listeners will witness the transformation of a soul through sound. A riot softened by the blow of the human experience, Player Dave is anything but ordinary.
Player Dave Links:
EVENT DETAILS:
What: Vibe Lab presents Sumthin Sumthin
When: Saturday 02/05/21 - 8pm-1am
Where: HB Social Club
Parking: paid parking available in structure
ALL COVID 19 REQUIREMENTS APPLY.