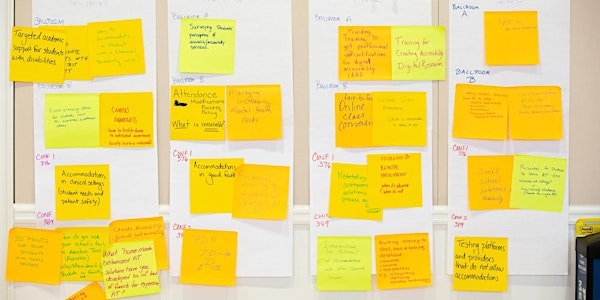 VHEAP UnConference - June 9, 2023
Join us for an event that mirrors the popular Edcamp style of professional development, where attendees create the agenda!
By Virginia Higher Education Accessibility Partners
Date and time
Friday, June 9 · 9am - 4pm EDT
Location
University of Virginia Student Health and Wellness Building 550 Brandon Ave. Charlottesville, VA 22903
About this event
The VHEAP UnConference - June 9, 2023
Mirroring the popular Edcamp style of professional development, an UnConference is a lightly organized, peer-led, participant-driven event in which attendees propose and facilitate sessions. In other words, you decide what we discuss! Focusing on programmatic, physical, and digital accessibility, this UnConference will involve free-flowing discussions, not presentations of one person's work or point of view. All are welcome to attend and share their expertise.
This event builds on the success of the earlier UnConferences held in 2018 and 2020 and welcomes accessiblity professionals from K-12, higher ed institutions, state agencies, and others interested in the world of accessiblity.
Join your colleagues from across the Commonwealth to share ideas, challenges, and solutions as we work towards a more inclusive and accessible experience for all. We hope you will join and be ready to participate!
More information can be found on the VHEAP website.
NOTE: If you experience difficulties with the registration process, please send an email to coaa@virginia.edu or contact Lori Kressin at (434)982-5784 for assistance.
About the organizer
With a focus on accessibility in higher education, this group is comprised of professionals across the broad spectrum of disability and accessibility fields in K-12, higher education, and state agencies. VHEAP works to provide events and opportunities for colleagues across the Commonwealth of Virginia, foster collaboration and common effort, and provide a more accessible experience for all Virginians.