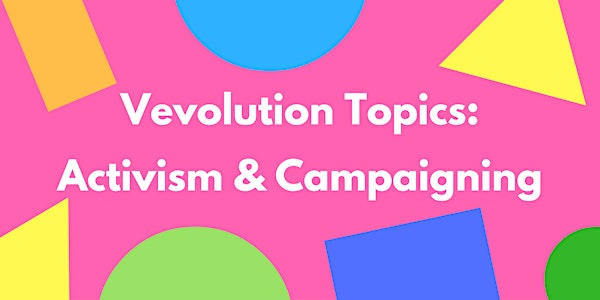 Vevolution Topics: Activism & Campaigning
When and where
Location
The Trampery Old Street 239 Old Street London EC1V 9EY United Kingdom
Description
Vevolution Topics: Activism & Campaigning - Emerging Issues And Tactics For Effective Campaigning
Veganism is one of the world's fastest growing social justice issues. We are a passionate movement but how do we best harness our energy to make a real difference?
This series of talks will highlight how activism can take many shapes and forms. We will explore emerging trends and highlight different ways you can spread the vegan message.
Speakers include:
◙ Ali Tabrizi - Film-maker and Director of Seaspiracy
After initially making waves on YouTube as The Friendly Activist with his educational and fun videos about veganism, Ali caught the attention of the creators of Cowspiracy, Kip Anderson and Keegan Kuhn. The past year has seen him work as an assistant editor on the upcoming AUM film What The Health and travel around the world filming his upcoming feature length documentary on the oceans Seaspiracy.
◙ Francesca A Page - Environmental Artist
Is an artist studying BA illustration at Camberwell college of Arts, UAL. She creates thought-provoking work that challenges viewers pre-held beliefs about the world. Her work focuses on spiritualism, the environment and veganism. Francesca's work is currently being displayed in the window of London restaurant Tibits as their art at Tibits series.
◙ Jimmy Pierson - Director of ProVeg International
Jimmy is the UK Director of ProVeg, a new international food awareness organisation launching this year. A former lawyer and journalist, Jimmy is now an in-demand expert on the vegan lifestyle. He regularly speaks to the national press and writes for leading publications including The Independent, The Guardian, the BBC and Huffington Post.
◙ Immy Lucas - Sustainably Vegan
Immy runs the YouTube channel Sustainably Vegan where she helps people make the connection between veganism and environmentalism. Her approach focuses on helping people learn about how to live in an environmentally conscious way that will save both ourselves, the planet and the animals. Immy has currently been focusing on carrying out the zero waste challenge and encouraging others to take part.


Food & Drink includes:

◙ Young Vegans - Get your vegan pie and mash from the best in town!
◙ La Buenaventura - La Buenaventura will be cooking up a storm with their traditional Spanish cuisine.
◙ Lemonaid - Organic vegan soft drinks, made from Fairtrade juices. Every bottle sold supports their charity's social projects, with over £1m raised.
◙ Sourdough Mess - The micro bakery based in Dalston will be serving up their yummy vegan and gluten free cookies and muffins.
◙ Proof's Place - will be selling their Bake'N made from coconut
◙ Bexfast - Super healthy and delicious oat-based breakfast pots made with all natural, 100% vegan ingredients

Ⓥ Please note that some of these vendors will be giving out samples but most items you will need to pay for so please bring cash with as there are no cash machines in the venue.
Ⓥ HeartCure and London Vegan Action the people behind The Earthlings Experience will both be there to give information out about their amazing activism. We are holding a raffle to raise money for HeartCure so be sure to bring along some spare cash to win some brilliant prizes!

▀ ▀ ▀ ▀ ▀ ▀ ▀ ▀ ▀ ▀ ▀ ▀ ▀ ▀ ▀ ▀ ▀ ▀ ▀ ▀ ▀ ▀ ▀ ▀ ▀ ▀ ▀ ▀ ▀ ▀ ▀
Ⓥ Date & Time: Wednesday 5th April, 6.30pm - 10:00pm
Ⓥ Venue: The Trampery, 239 Old St, London EC1V 9EY
Ⓥ Please be aware that there will be a camera crew covering the event. If you have any questions, feel free to get in touch with us at judy@vevolution.co
Ⓥ Notes on refunds: We are happy to accommodate refunds with advance notice but we are unable to offer refunds a week before the event due to it being to short notice to resell the ticket.P
▀ ▀ ▀ ▀ ▀ ▀ ▀ ▀ ▀ ▀ ▀ ▀ ▀ ▀ ▀ ▀ ▀ ▀ ▀ ▀ ▀ ▀ ▀ ▀ ▀ ▀ ▀ ▀ ▀ ▀ ▀
About Vevolution Topics:
Vevolution Topics are a series of educational events showcasing the leading lights in the vegan and conscious living movement.
After the success of Vevolution Festival 2016, we wanted to bring you a more intimate experience with opportunities to connect with like-minded people and learn about important issues. 

Initially we will hold 4 events from February-May with each event focusing on a different area of the vegan movement. Topics include:
Food Innovation in February
Health and Wellbeing in March
Activism and Campaigning in April
Ethical Fashion in May
Thank you to our sponsors Tideford Organics, Oatly, Bute Island Food, One Planet Pizza & Lemonaid.


▀ ▀ ▀ ▀ ▀ ▀ ▀ ▀ ▀ ▀ ▀ ▀ ▀ ▀ ▀ ▀ ▀ ▀ ▀ ▀ ▀ ▀ ▀ ▀ ▀ ▀ ▀ ▀ ▀ ▀ ▀
About Vevolution:
Vevolution is a vegan and conscious living events and online tech company bringing people together for education and connection.
Check out the highlights from the festival we did in November 2016 at Oval Space that brought together 500 people which made it the biggest European vegan conference: