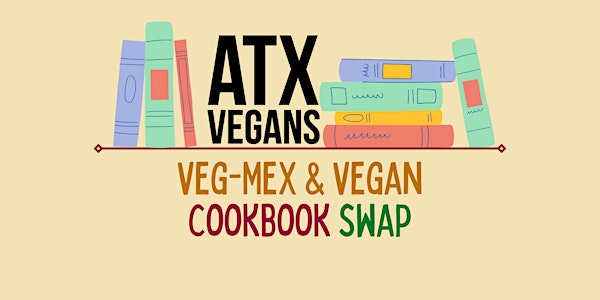 Vegan Meetup & Cookbook Exchange
Meet up with other vegans, eat delicious discounted dinner from Nissi Veg-Mex and swap vegan cookbooks just in time for the holidays!
When and where
Location
Nissi Vegmex 9012 Research Boulevard #Unit C-6 Austin, TX 78758
About this event
Join ATX Vegans on Monday, December 19th for a chill meet-up and Vegan Cookbook Swap.
How it works: Show up, drop off book(s) and grab a bite to eat. Make new friends or chill in the corner with your old ones, we don't care! After about an hour, we'll start the swap.
6:00 - 7:00: Sign in, drop off book(s) and get a ticket for every book you're swapping. This is a great time to order food at Nissi - everything's vegan and Sergio is offering everyone in our group 15% off their meal: Just say you're with ATX Vegans!
7:00: We will begin the swap. We'll call out a ticket number and folks can come up and pick out one book at a time. Yes, that means if you brought 3 books, you'll come up 3 separate times. You get to pick whatever book you want without competing or fighting.
8:00 This is when Nissi stops serving food for the night, so please have all orders in at the top of the event!
FAQ:
What if I don't have any books to swap, can I still come? Yes. You do not have to participate in the swap to attend.
Can I bring my dog? Nope. Indoor restaurant.
Can I bring my cookbook that is non-English language, has metric measurements, is slightly damaged or otherwise not standard? Yes, but if someone does not choose your cookbook, you will be expected to take it back home. We will not accept zines, heavily damaged books or cookbooks that are meant to accompany blenders/kitchen gadgets (eg: The small Vitamix/juicer cookbook that comes with purchase). We will bring a few extra so that there is a varied selection for the last ticket-holders.
I want to swap a cookbook, but I also want it returned back to me. Can I request that? No. All swaps are final. Do not bring a cookbook to which you are not OK saying "goodbye."
Can I bring a vegetarian or otherwise non-vegan cookbook to swap? We will allow cookbooks that list honey in ingredients since there are simple alternatives. All other ingredients in the cookbook must be vegan.