NY Tech Alliance will be presenting our 2021 update on the VC financing market for early-stage companies.
About this event
NY Tech Alliance will be presenting our 2021 update on the VC financing market for early-stage companies. The panel will feature representatives from some of the most active VC funds in the NY area. Topics to be addressed include the following:
• The current state of the VC financing market for early-stage companies and trends to look for
• Strategies for identifying and connecting with the right VC for your company
• Advice for navigating through the first meetings with interested VCs
• Common mistakes in the VC financing process and how to avoid them
With participants to include founders and principals of startup companies as well as investors, and with ample time for Q&A and virtual networking, this session will be an outstanding source of practical, real-world guidance and useful contacts.
Event Agenda:
11:30 am - 12:00 pm - Open Networking (on Airmeet)
12:00 - 1:00 pm - VC Panel Conversation
1:00 - 1:30 pm - Networking (on Airmeet)
Host:
Paul Ellis, Managing Partner, Paul Ellis Law Group LLC
As Managing Partner of the 9-lawyer Paul Ellis Law Group, Paul counsels on issues including formation, early-stage financing (friends and family, angel and VC), joint venture and strategic partnering relationships, employment, equity plans, mergers and acquisitions, and, together with his colleagues, protection and licensing of intellectual property. Beyond the internet/mobile/IT industries, he has practiced in industries including telecommunications, healthcare, manufacturing, banking, real estate, consumer products, and entertainment. He has represented companies ranging from startups to multinationals, as well as funds and individual and institutional investors. Paul is a board member of NY Tech Alliance and organizes its events on legal issues for startup through midsize tech companies. He holds a BA from Harvard and a JD from Georgetown.
Panelists:
Meghan Cross Breeden, Partner, Amplifyher Ventures
Meghan joined Amplifyher as a startup operator and investor. Previously, as the founding Managing Partner of Red Bear Angels, she built the Cornell alumni angel network of 100+ HNWI and led 25+ investments including Datalogue, Grokstyle [acq. Facebook], and Lyft [NASDAQ: LYFT]. Meghan received her venture training from Foundation Capital and Bowery Capital. As a startup operator, she was an early Director at StyleCaster, Inc (acq. She Knows Media) and a Public Relations specialist for Skype and Foursquare during their early years. Meghan received her B.S. in Fiber Science from Cornell University and M.B.A. from Columbia Business School.
Raju Rishi, General Partner, RRE Ventures
Raju invests in passionate and tenacious entrepreneurs that are building category-defining businesses across a wide range of industries. He has a predilection for companies with deep technology roots, but is always willing to invest in a new area with an exceptional team. His current investment areas include Enterprise Technology, Real Estate Technology, Healthcare IT, and Marketplaces.Before joining RRE Ventures, Raju was a Partner at Sigma Prime Ventures. Most of his career, however, was spent as an entrepreneur and operator. Raju is a graduate of the Massachusetts Institute of Technology, where he holds B.S. and M.S. degrees in Materials Science & Engineering. Outside of the office, Raju can be found sipping a fine single malt and spending time with his wife and four kids.
Ben Daniels, Senior Associate, IBM Ventures
EVENT URL:
https://www.airmeet.com/e/9f447710-9cb5-11eb-9ce7-13984ae3f1b1
Chrome or Microsoft Edge browsers recommended for using the Airmeet platform
Watching on YouTube Live
If you do not want to participate in the Airmeet event, you can also watch the livestream at https://www.nytech.org/nyta_forum_vc_update_2021.
For full event description and panelists' bios reference https://www.nytech.org/nyta_forum_vc_update_2021
We work hard to keep these programs free thanks to your community support. Please make a small contribution today at https://www.nytech.org/support_nyta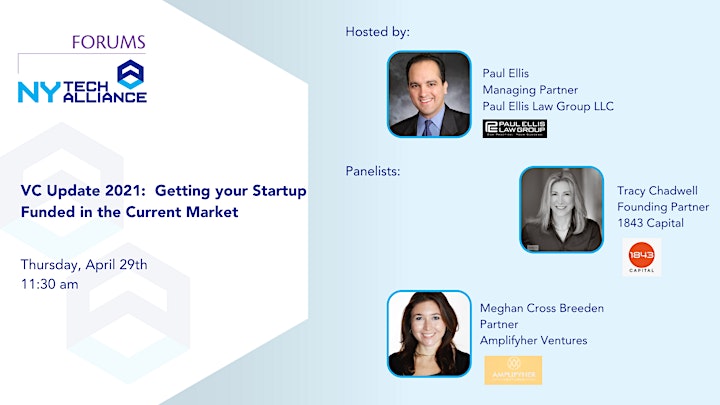 Date and time
Location
Refund policy