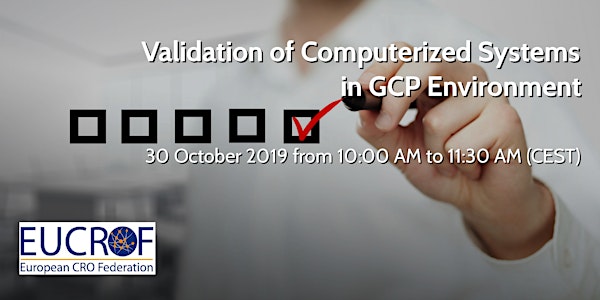 Validation of Computerized Systems in GCP Environment
When and where
Location
Webinar on GoToWebinar Netherlands
Description
>> Webinar Topic:
Validation of Computerized Systems in GCP Environment
>> Webinar Date & Time:

30 October 2019 from 10:00 AM to 11:30 AM (CEST)
>> Webinar Overview:

Nowadays, the collection, analysis and processing of data originated from a clinical study or for marketing settings is supported by specialized applications. As requested by ICH GCP it has to be ensured and documented that electronic data processing systems conform to "established requirements for completeness, accuracy, reliability, and consistent intended performance." Therefore, validation of computerized systems has become a central aspect in CRO's daily work and the validation effort should not be underestimated. With the recent update of ICH E6 (R2) this requirement has been extended to include the concept of "risk assessment that takes into consideration the intended use of the system and the potential of the system to affect human subject protection and reliability of trial results." In addition, the validation of computerized systems is increasingly being addressed in audits and inspections.
This webinar aims to give a general overview of validation procedures focusing on validation processes of non-configured (GAMP category 3) and configured (GAMP category 4) products. To illustrate this, we will play through the validation steps with the help of an example. Furthermore, we will present relevant guidelines and typical roles and responsibilities in validation and we will look at what we have learned so far from audits and inspections.
>> Presenters:
Simone Bucerius
Simone Bucerius (M.Sc. Biology) is Quality Assurance Manager at FGK Clinical Research GmbH. Her experience includes coordination and conduct of GCP and GVP audits, maintenance and further development of the company-internal SOP and training system as well as support in validation of computerized systems.
Previously she worked in the field of Research and Development focusing on DNA sequencing techniques.
Guenter Woelfl
Guenter Woelfl (M.Sc. Physics) is e-Solution Manager at FGK Clinical Research GmbH. His experience includes Selection, Validation and Maintenance of computerized systems for the use in the field of clinical research. Furthermore, he is responsible for user management and training.
Previously he worked more than 10 years as clinical project manager.
>> Attendance Fee:
€ 90 for EUCROF non-members
€ 60 for EUCROF members
>> Deadline for registration:
29 October 2019
---
>> How to register?

1) Click on the green "REGISTER" button on Eventbrite
2) Check your order and click on the green "CHECKOUT" button
3) Fill in all the necessary information and validate your order
>> Confirmation
You will receive 2 confirmation emails :
A) One from Eventbrite with your invoice
B) One from "GoToWebinar" with all the necessary information to connect the D-Day!
>> Questions?
Should you have any questions about registration, invoices or connection, do not hesitate and contact us by email at webinar@eucrof.eu.

By registering to the webinar, you give your authorisation to the webinar organizers to use your email address and personal information to communicate with you about this event and future initiatives. To stop receiving their communications, please contact the organizers directly at info@eucrof.eu.