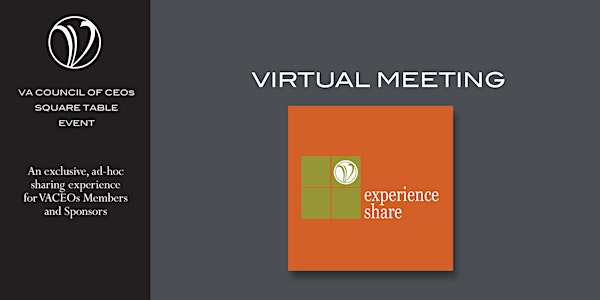 VACEOs Square Table: 333 and Gaining Focus
Date and time
Tuesday, May 12, 2020 · 3:30 - 4:30pm EDT
Description
Experienced CEO Sam Dibert and VACEOs Executive Scot McRoberts will lead this square table event. The goal will be to learn how to maintain focus on what's important in the midst of crisis and stress. During this discussion Sam will explain his "3-3-3" tool as featured in "A SMB Guide to Managing Priorities During COVID-19 Crisis."

This event is for VACEOs Members only, please. It is limited to 10 people so that we can have a Roundtable-like experience on this topic.

Members only, please.
Host and presenters:
Sam Dibert, Dibert Valve and Fitting Company
Scot McRoberts, VA Council of CEOs
About VACEOS Square Table events:
Ad hoc peer learning in small groups
VACEOs Safe Haven culture applies. The host will set the confidentiality level.

Any member or sponsor can propose an event
Topic, meeting format, etc. determined by the host
Free to participants.
Learn more about how Square Table events work, and how you can propose one here

About the organizer
We connect CEOs of small and mid-sized Virginia companies through peer roundtables and exclusive learning events.