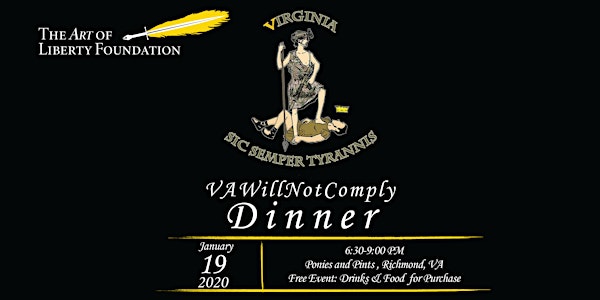 VA Will Not Comply Dinner
A pro 2A & self-defense dinner for voluntaryists and libertarians with remarks from the author of "Government" - The Biggest Scam in History
When and where
Location
Ponies & Pints 110 North 18th Street Richmond, VA 23223
Refund Policy
Contact the organizer to request a refund.
Eventbrite's fee is nonrefundable.
About this event
The Art of Liberty Foundation, a start up public policy is hosting a dinner on the eve of the VCDL lobby day. Come out for an evening of political fellowship with voluntaryists and libertarians to discuss and promote peaceful but uncompromising positions to threatened gun confiscation, gun registration and red flag laws.
Free event, $5 guarantees you a seat and helps cover costs, $50 Kick-starter ticket includes signed copy of "Government" - The Biggest Scam in History Exposed.
Pub Fare with Vegan and Vegetarian Options
Ponies & Pints
110 North 18th Street
Richmond, VA 23223
+1 804 716 4455
About the Speakers
Etienne de la Boetie2 is the pen name of a voluntaryist author and founder of the Art of Liberty Foundation. Mr. Boetie2's book: "Government" - The Biggest Scam in History Exposed! reveals "Government" as a tool, a technique of inter-generational organized crime to rob and control society. The book exposes 20+ unethically manipulative techniques used by tyrannical regimes throughout history including here in Virginia.
Kal Molinet is the founder of Liberate RVA, Richmond's largest community of voluntaryists and libertarians.

About the Art of Liberty Foundation
The Art of Liberty Foundation is a start-up public policy organization focused on spreading voluntaryist/libertarian ideas through effective media tailored to visual learners, busy people, and short attention spans. The foundation produces books, articles, podcasts, memes, videos, infographics, and monographs that explain the basics of voluntaryism and libertarianism while exposing the illegitimacy, illogic, and immorality of government in addition to its criminality and corruption. The Foundation is also focused on developing and testing viral and uncensorable methods of widely distributing voluntaryist/libertarian solutions and evidence of government and media criminality through the hand-to-hand distribution of low-cost "picture books", data DVDs and USB flash drives. Finally, the foundation is interested in researching strategies for effectively exposing and transitioning from organized crime/governmental control to real freedom and voluntary free market solutions including libertarian intentional communities, political secession, the transition of non-redistributive government services to private schools, protection companies, arbitration providers, private restitution-vs.retribution-based prisons and insurance-supported private fire brigades, technologies that promote digital liberty, free markets, private encrypted communications, anonymous digital cash and free market monetary competition.