UX Strategy Workshop with Jaime Levy in Munich, Germany
Description
COVID-19 UPDATE: THE ONSITE WORKSHOP WILL NOW BE HELD ONLINE (VIA ZOOM) THIS THURSDAY 19 MARCH FROM 9AM - 5PM. IF YOU ARE HOLDING A WORKSHOP TICKET AND DID NOT RECEIVE (OR RESPOND) TO OUR EVENTBRITE EMAIL UPDATES ABOUT THE NEW OPTIONS, PLEASE CONTACT US IMMEDIATELY (Jaime@JaimeLevy.com).
UX strategy is a process that should be started before the design or development of a digital product commences. It is a practice that when done empirically is a better guarantee of a successful digital product than just crossing your fingers, designing some wireframes, and then writing a bunch of code.
Jaime Levy, author of the best seller UX Strategy (4,8/5 Amazon) will conduct this comprehensive workshop offering participants a high-level overview of the methodology along with hands-on experience of how to practice the techniques. Participants will leave with the confidence to immediately apply what they have learned to their own project initiatives.
This workshop is geared for UX/UI practitioners of any level, product teams and managers, business executives, and startup founders that want to learn how to be more strategically sound in their process.
You will learn:
Why the empirical practice of user experience strategy is crucial for devising successful online products

How to validate a problem statement using a provisional persona and customer discovery techniques


How to identify direct and indirect digital competitors of your value proposition

How to collect and capture quantitative and qualitative data for doing thorough market research

How to conduct a methodical analysis for narrowing in on a unique product and opportunity space

How to use storyboarding for creating a narrative that focuses on a products' value innovation and business model


---
Workshop agenda


Introductions/Kick-off
The Four Tenets of UX Strategy + Q&A
Validating a Problem Statement using Provisional Personas & Customer Discovery Interviews
Conducting Competitive Research and Analysis
Storyboarding Value Innovation


---
About Jaime Levy
Jaime Levy is an author, university professor and a pioneer in the creation of innovative digital products and services. Her best-selling O'Reilly Media book is called UX Strategy: How to Devise Innovative Digital Products that People Want. The book presents a solid framework on the practice, which lies at the intersection of UX design and business strategy.
She currently runs JaimeLevy.com, a digital strategy firm out of Los Angeles, California. Jaime also teaches graduate-level courses on UX design and UX strategy at the University of Southern California. You can read more about her on Wikipedia.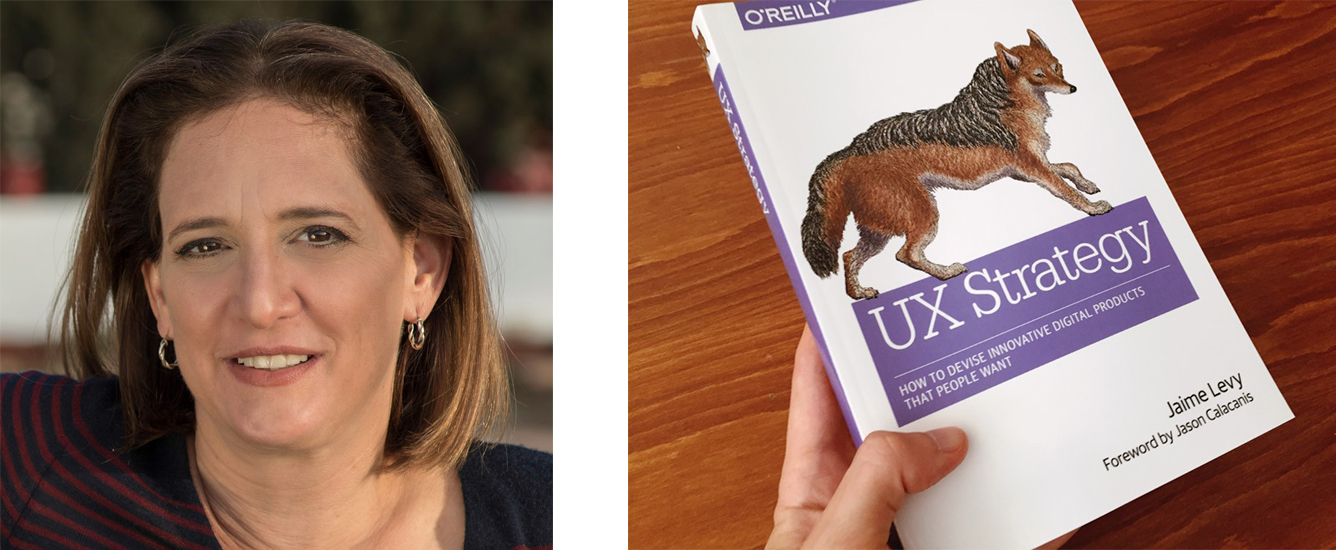 ---
Opinions about the workshop
"Dear Jaime,
I just had a job interview with a bank and they asked me about my product stragegy knowledge. They were clearly impressed when I spoke about what I learned from your book and the workshop."
"Energy and passion of Jaime are great, she has shown us how to build a UX strategy with relatively simple methods, a well-organized workshop. I would recommend it!"
Joanna, 2017 Warsaw edition


---
Event partner
---
FAQs
What else comes with this workshop?
You will get a complimentary copy of the e-book version of UX Strategy.

How can I contact the organizer with any questions?
Please use Eventbrite or call 00 48 693 160 410
Do I have to bring my printed ticket to the event?
No, your name will be checked at the list. That's it.
Do I need any equipment?
Having a laptop is highly recommended, but not required. You can work in teams of two on the exercises that require a laptop.
What about lunch and refreshments?
We'll provide lunch and plenty of coffee and refreshments before the workshop starts and during the mid-session breaks.


How do you recommend that I

convince

my

manager

to send me?

You can start by showing your manager:

Jaime's best selling book on Amazon (so they can see the number of 5-star reviews and what they say),
Jaime's Linkedin profile and website (so they can see her 30-years of industry experience, university-level teaching credentials, and UX Strategy services offerings that you too will be be able to offer as a result of taking the workshop),
Jaime's Wikipedia page (so they can see that she's been a recognized software pioneer from before the Internet even had a web browser).
How to get an invoice?
In case you need an invoice first or have any other procedural requirements please contact us directly. We are here to help you and have a lot of flexibility.
Are there any group discounts?
If you would like to buy more tickets please contact us directly to discuss your discount.
What is your refund policy?
All tickets are non-refundable but are transferable. If possible, please email to let us know of the name change so we can update the contact information.