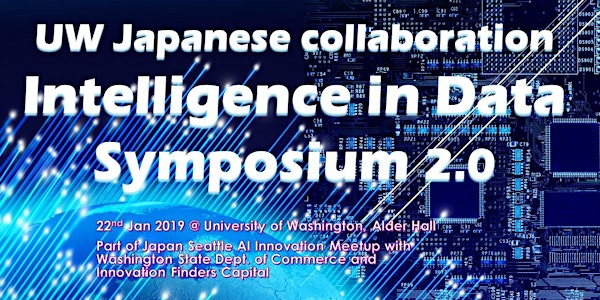 UW Japanese collaboration :- Intelligence in Data Symposium Jan 22 2019
Location
University of Washington, Alder Auditorium
1310 NE 40th Street
Seattle, WA 98105
Description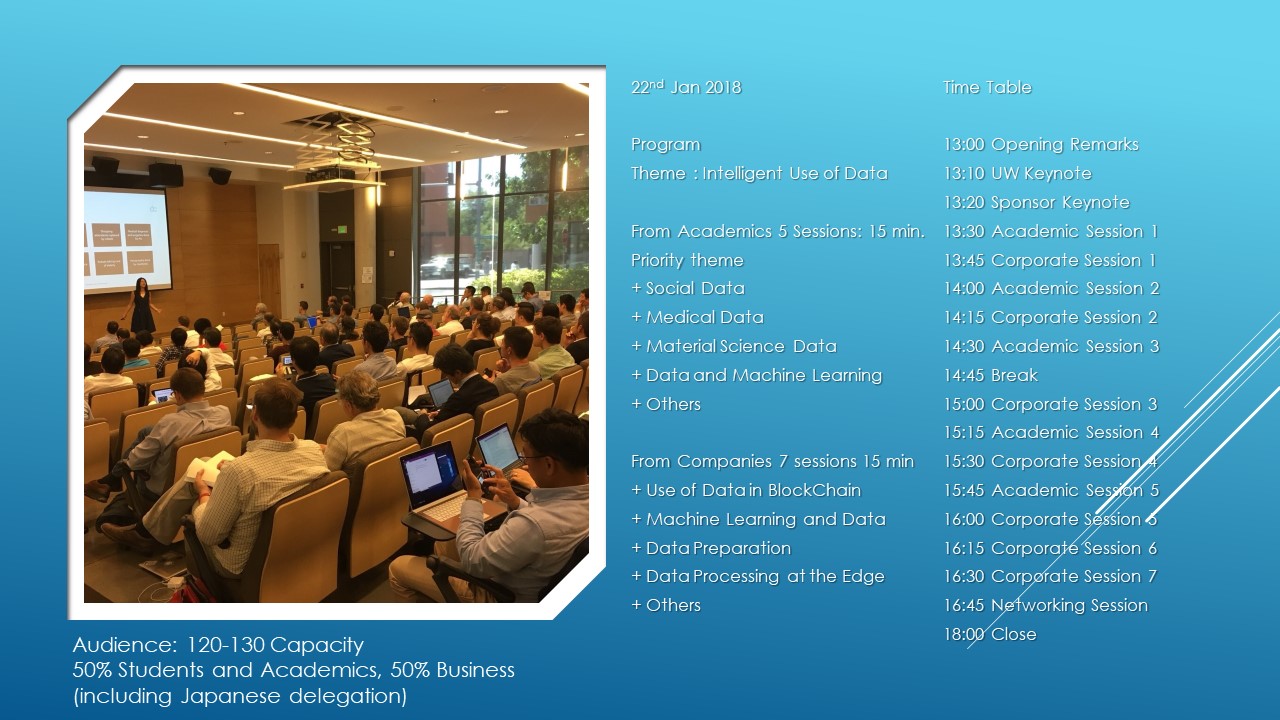 FREE ON SITE REGISTERATION at DOOR for STUDENTS & ACADEMICS
Venue: Alder Auditorium, University of Washington
Date : 13:00-18:00 Jan 22nd 2019
In the age of Machine Learning and AI, the success of a system depends heavily on the data. To train an AI model, you need a good quality data and that data must be collected, organized and structured in an intelligent way. So much so that much of the AI system development is structured around how to prepare the incoming data and then processing the out coming data. We will have speakers from academics, leading platform developers and startups who focus on data science and data processing.
Format?Fast Paced Presentations?Academic + Business Mix?Networking and Meetings
Delegation from 10 of the largest Japanese companies will join as audience as part of Japan Seattle AI Innovation meetup. There will be networking session at the end to talk to them.
Program
1:00 Welcome
Tom Sato Innovation Finders Capital, Managing Partner
1:03 Opening Remarks
Prof Fumio Ohuchi, University of Washington, Dept Material Science & Engineering
Dr. Joseph Williams, Washington State Dept of Commerce, Director and ICT Sector Lead
Blake Ilstrup, Partner, Orrick Herrington & Sutcliffe
1:15 Session 1
Overview of UW's Data Science Institute: eScience Institute, University of Washington
Dr. Sarah Stone, eScience Executive Director
1:35 Session 2
David Beck (Chemical Engineering) University of Washington
2:00 Session 3
"ML Model Development and Importance of Data"
By Rajeev Dutt, CEO, DimsionalMechnics
2:40 Break
3:00 Session 5
Bernease Herman eScience Institute, University of Washington
"Evaluating explainable machine learning models and insights for human-centered applications"
3:30 Session 6
John Traynor Senior Vice President
FreePoint Technologies Inc.
"Realtime Data in Industrial IoT"

4:00 Luna Huang: Data Visualization for Materials Science: A Case Study of Using Self-Organizing Maps (SOM)
4:30 Networking Session with light food and refreshments
Organizers
Prof Fumio Ohuchi, University of Washington, Dept Material Science & Engineering
Tom Sato Innovation Finders Capital, Managing Partner
Supported by
Washington State Dept of Commerce
eScience Institute, University of Washington
Academics
Please contact Prof Ohuchi with a proposal. Subject should be in line with priority theme.
Email : ohuchi@uw.edu
Companies
Please contact Tom Sato at IFC with an idea for 15 min presentation in line with Data and AI/ML. There is a cost to do a presentation.
Email: tom@innovation-finders.com

---