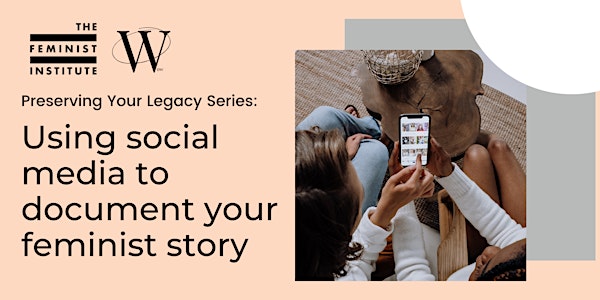 Using social media as a tool to document your feminist story
Social media IS your legacy, so we ask you: what story are you sharing?
About this event
The Feminist Institute and The WOW Series present the first virtual event as part of its "Preserving Your Legacy Series" to discuss how the current and next generations can leverage their social media platforms to document their own feminist stories and uplift the contributions of others. This event will host a panel of feminist, social media activists to discuss how to embrace and leverage social media as a medium to elevate your activist voice and build your own personal digital archive.
This event is perfect for the modern professional looking to learn how to use their platform as a catalyst for social change.
Social media IS your legacy, so we ask you: what story are you sharing?
Who is this event for:
- Professionals, feminist allies looking to uplifting their own voice and the voices of other feminist leaders
- Anyone interested in using their social media as a tool of social change
What is this event about:
The Feminist Institute is dedicated to digitizing and sharing the rich history of feminist contributions to culture, and believes that personal archiving is a feminist act. This event will give insight into how you can utilize social media to build your own digital archive and share your feminist narrative online. At this event, you will hear from a panel of social media activists about how they use their online presence as a place to be heard and promote change.
Speaker information coming soon!
Where is this event:
Zoom and live streamed on YouTube
Agenda:
5:00pm – 5:30pm: Panel Discussion
5:30pm- 6:00pm: Question & Answer and Networking
Tickets:
This event is free for all to attend! You must regsiter.