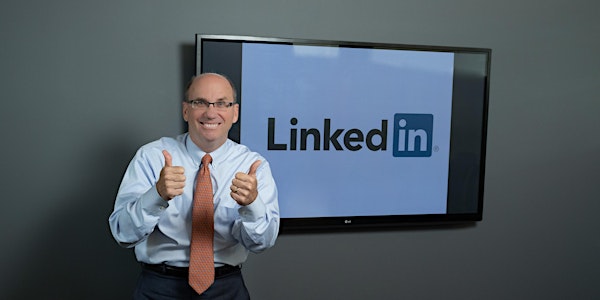 Using LinkedIn to Generate a Steady Stream of Sales Prospects(Zoom Event)
Discover easy ways to use LinkedIn to get more work and make more money
By Wayne Breitbarth, Globally Recognized LinkedIn Trainer, Speaker & Author
Date and time
Monday, May 22 · 10am - 12pm PDT
Refund Policy
Contact the organizer to request a refund.
Eventbrite's fee is nonrefundable.
About this event
Using LinkedIn to Generate a Steady Stream of Sales Prospects
**Registered participants will receive a recording of this session.
Are you actively using LinkedIn but still looking for more ways to use it to generate quality leads and close more deals?
And if you're not selling products or services, are you maximizing LinkedIn to sell yourself or your organization?
If you're interested in getting more work, making more money, or simply looking for more exposure, this event is for you...and you'll come away with action steps that can produce immediate results.
Wayne will help you move beyond the basics and show you how to:
Find prospects that lead to sales
Drive traffic to your profile and website
Build credibility in your marketplace
Discover insider information about people or prospects
Track your customers and potential customers
Develop an overall strategy to grow your business
Wayne is the author of the critically acclaimed book The Power Formula for LinkedIn Success: Kick-start Your Business, Brand, and Job Search (now in its 4th edition), and he's taught more than 100,000 people how to capitalize on LinkedIn's most popular features as well as the little known but highly effective hidden features.
Here's what recent seminar participants said:
"My effectiveness at using LinkedIn has improved because of what I've learned from Wayne. I've literally attracted clients who've directly reached out to me on LinkedIn."
"I recently took one of Wayne's classes called "Using LinkedIn to Generate a Steady Stream of Sales Prospects," which is an intermediate/advanced class. I am very well versed in LinkedIn and thought I knew most everything on LinkedIn; however, I was widely surprised at the information Wayne brought to the table. The information he presented has enhanced my professional career, as well as shaped a new strategy for my company."
Who should attend this session:
Business owners
Sales leadership
Individuals responsible for developing leads
Marketing people responsible for website traffic and inbound marketing leads
People responsible for nonprofit fundraising
Don't miss this chance to develop the LinkedIn skills that will take your business to the next level.
Check out other classes in Wayne's Ultimate LinkedIn Masterclass Series:
Optimize Your LinkedIn Company Page & Effectively Market Your Business
Using LinkedIn to Recruit Top Talent Without a Premium Account
Praise for Wayne's seminars...
As a past participant of this class, I would highly recommend it to anyone looking to use LinkedIn to generate meaningful leads. Wayne shared a great deal of information in a concise, convenient class. I was able to incorporate several of his teachings into my daily prospecting tasks immediately.
I recently attended this class on behalf of the company I work for and would highly recommend it to anyone looking to quickly and enjoyably be brought up-to-speed on LinkedIn's latest and greatest. I learned many new, valuable tips and strategies that I am excited to implement and share with our team.
I attended Wayne's "Using LinkedIn to Generate a Steady Stream of Prospects" class. The skills that are taught in this course are just what is needed to make the connections that will help grow my business. It is presented in a fast paced and enjoyable matter and coupled with the handouts that are provided starts one on a course of action.
Wayne's seminars have proven to be an invaluable asset in my ability to improve sales and marketing strategies, reduce time spent on searches, and make viable connections. The techniques shown in Using LinkedIn to Generate a Steady Stream of Sales Prospects continue to impress me. Power Formula LLC training should be mandatory for both sales and marketing professionals.
It was a game changer...It is packed with ready-to-use, highly effective tips and information for creating a world-class profile, doing laser-focused searches to find your audience, leveraging sales tools, and finding the best talent for your business.
Although I have been a LinkedIn user for a few years already, Wayne still offers classes that help me maximize the business potential of my LinkedIn contacts. He is the specialist, and his well-targeted training sessions bring me up-to-date with all the new features. I don't need to take time to explore what's new, Wayne does it for me and explains it clearly. This is time well spent, and I highly recommend his classes!
He is the LinkedIn master. He explains the WHY and STRATEGY behind using LinkedIn to truly be effective. Finally, it really doesn't hurt that Wayne is an incredibly talented and entertaining presenter. If you haven't seen him yet, you need to!
He engages the audience and keeps them wanting more. His anecdotal stories are so sound and so enjoyable. He is an expert on LinkedIn on how to use it as a timely networking tool.
About the organizer
Power Formula LLC, led by Wayne Breitbarth, one of the world's foremost LinkedIn experts, is an industry leader in LinkedIn training and marketing. Wayne is the author of the critically acclaimed book "The Power Formula for LinkedIn Success," and he has helped more than 100,000 business professionals access the full power of LinkedIn—for their companies and their careers.
CONSULTING 

When consulting with corporate clients, he works with management to develop a comprehensive strategy for using LinkedIn to increase sales, raise brand awareness, find new employees, and equip every employee to become a marketing voice for the company. Wayne then develops and implements a training program to meet the corporate objectives. 

SPEAKING 

Wayne is also a sought-after speaker for conventions, industry events, executive groups, and panel discussions. His diverse thirty-year business background—which includes operations, finance, management, consulting, and business ownership—enables him to address the needs and concerns of nearly any group of business professionals. 

HIS BOOK 

Wayne's book, The Power Formula for LinkedIn Success: Kick-start Your Business, Brand, and Job Search, is a practical, user-friendly guide that will help you: 
         • Navigate LinkedIn, the world's largest business networking site 
         • Create a powerful personal profile 
         • Discover your next job, customer or opportunity 
Visit www.powerformula.net for more information and valuable resources.