Sales Have Ended
Registrations are closed
The webinar registrations are now closed. Please visit the UCSF Health Hub website to watch the event recording.
Sales Have Ended
Registrations are closed
The webinar registrations are now closed. Please visit the UCSF Health Hub website to watch the event recording.
Raising capital in the midst of COVID: How can healthcare startups leverage DocSend's new features to build a successful pitch deck?
About this event
Even with all the economic uncertainty brought by COVID, funding in the digital health space has been at a record high.
Join Russ Heddleston, CEO, DocSend, and Mark Goldstein, Chairman, UCSF Health Hub, and Partner, Builders VC, as they share their insights on what it takes to create a winning pitch deck for digital health startups, and how to use the latest features by DocSend to raise billions in the midst of a pandemic.
Learn the ins & outs to apply them to your next round.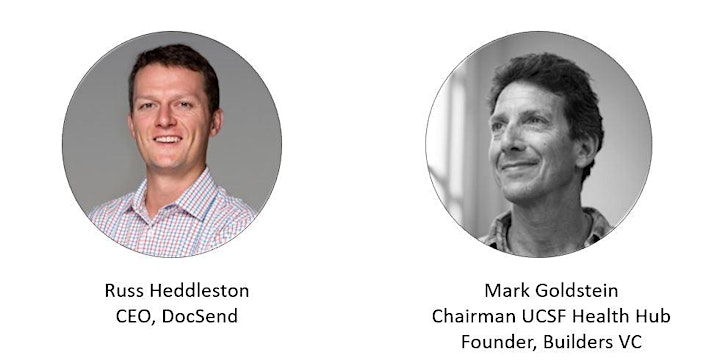 Join the webinar to:
Understand how funding in digital health has evolved in the wake of the pandemic, the momentum this space is experiencing, and what it means for fundraising.
Find out actionable insights for healthcare startup founders on what it takes to create a powerful pitch deck (the section of your pitch deck VCs are the most interested in, and the sections you absolutely should NOT include in your deck).
Learn more about the latest features from DocSend specially designed to help digital health startups raise their next round of VC funding.
Discover what the optimal timeline to raise is, how many investors you need to contact, and how long does it take for each round.
About DocSend:
DocSend is a secure document sharing and tracking solution that helps professionals build relationships and close business.
Organizer of Using DocSend to raise your next round faster
UCSF Health Hub is a 501(c)3 non-profit organization, affiliated with the University of California San Francisco and funded by the venture capital community and select healthcare services providers.
Our mission is to help the next best digital health and life science companies develop ideas, validate, and scale by matching them to their next idea, advisor, investor, mentor, clinician, and/or customer. We help those companies that have received some form of funding, are full-time, and are on their journey to disrupt the status quo in healthcare.
Our 20,000+ community consists of thousands of select, early-to-late stage healthcare companies and, highly qualified healthcare experts, mentors, investors, clinicians, researchers, and buyers who subscribe to our newsletters, get connected via our UCSF Health Hub Connect matching platform, participate in the 2021 UCSF Health Awards, and attend our monthly events (live at UCSF's Mission Bay campus and virtual).