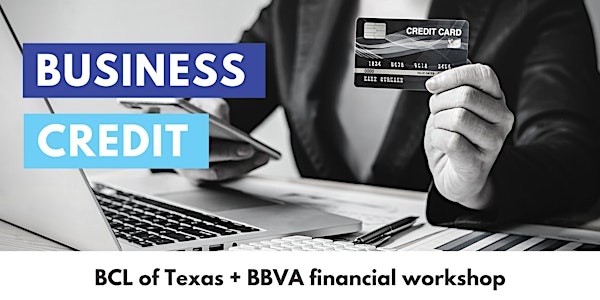 Using Credit for Business Growth
Join financial experts at BCL of Texas & BBVA to learn how to get your business financed through credit.
About this event
Did you know that more entrepreneurs use their credit cards to fund their business than those who use a bank line of credit or a business loan?
This FREE class will guide you through the different methods of credit financing so you can identify the best option to help your business grow.
Topics covered in this session:
Lines of credit
Business credit cards
Term loans
Real estate-secured loans
Plus, you'll have the opportunity to get all of your questions answered by seasoned business experts!
About BCL of Texas
BCL of Texas is a 501(c)(3) nonprofit economic development organization providing lending, homeownership, entrepreneurship, and community development programs to fulfill our mission of Building Strong Communities across Texas.
About BBVA
BBVA's Center for Financial Education is an initiative to create opportunities for over 15,000 people in 2020 by helping them increase their financial knowledge. Through financial education workshops focused on personal finance, home ownership and small business, BBVA Financial Capability Coaches promote the importance of financial health and share expertise with communities.