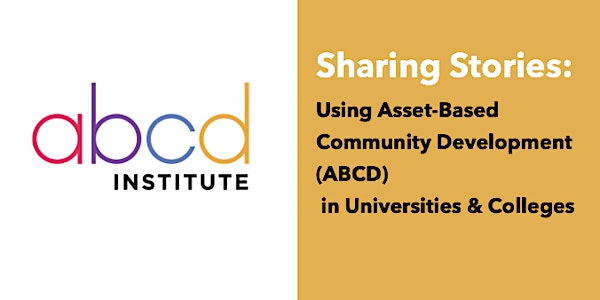 Using an ABCD Lens in a Community Based Service Learning Course
The ABCD Institute is hosting a series of virtual story sharing sessions on Asset-Based Community Development and Higher Education.
About this event
Join us for our December 2022 Story Sharing Session:
Using an ABCD Lens in a Community Based Service Learning Course:
ABCD & Skill Building—When Communities Know What To Do and You Know How To Do
Description: Technical skills-focused courses can struggle to connect with communities in an asset-based, rather than a deficit-based, way. There is often an impulse to do for, instead of with, or to write off the possibility of community engagement due to time limitations. However, this need not be so! Presenter Dr. Samantha Close shares examples drawn from her years of teaching the Introduction to Digital Media Skills, a project-based community service learning course at DePaul University. Chiarra Lohr brings the community partner side of the equation, speaking from her experiences working with Close's course.
Presenters:
Samantha Close, Assistant Professor of Communication and Media Studies, DePaul University
Chiarra Lohr, Interim Secretary-Treasurer of the Indie Sellers Guild
Facilitator:
Helen Damon-Moore, Associate Director, Steans Center, DePaul University
About the Series
The ABCD Institute Higher Education working group is pleased to host a series of virtual story sharing sessions on "ABCD in Higher Education." The series showcases examples of how faculty, staff, and students at universities and colleges are intentionally doing - or trying to do - their work using an asset- or strengths-based approach, within their institutions or in their work with community partners.
Stories might include programs, initiatives, or short-term projects that illuminate successes and challenges. This is not limited to best practices and could include efforts that have been difficult at best.
Stories - along with associated tools and resources - will then be compiled and shared through an ABCD Institute publication, edited by the ABCD in Higher Education Work Group. All storytellers and session participants will be invited to join the work group moving forward.
Upcoming Sessions: 
Sign up for ABCD Institute event announcement list to receive information about future events. 
About the ABCD Institute
The Asset-Based Community Development Institute (ABCD) is at the center of a large and growing movement that considers local assets as the primary building blocks of sustainable community development. Building on the skills of local residents, the power of local associations, and the supportive functions of local institutions, asset-based community development draws upon existing community strengths to build stronger, more sustainable communities for the future.
The ABCD Institute is a nonprofit organization located in Chicago at DePaul University's Irwin W. Steans Center.