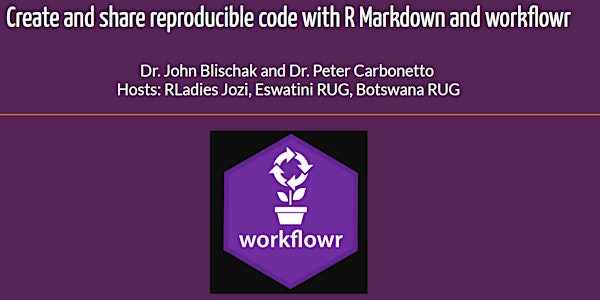 useR! 2020:Create and share reproducible code with R Markdown and workflowr
Have you ever struggled to re-run your own code or scripts you received from a collaborator? You're not alone!
About this event
Fortunately, there are simple practices that you can use to help you develop more reproducible R code. In this tutorial, you will 1) explore some of the common causes of non-reproducible code, 2) gain practical experience fixing reproducibility issues, and 3) use the R package workflowr to facilitate creation of more reproducible and shareable code. The tutorial will be hands-on and interactive, with small-group exercises.
Prerequisites:
Participants should have some experience using R (e.g. importing data from a file, loading a package). The tutorial will involve running R code in R Markdown files from the RStudio IDE. If you are unfamiliar with R Markdown, we recommend reviewing these short guides before participating in the tutorial: Introduction , How It Works, Code Chunks.
Requirements:
A web browser, an account on GitHub, and an account on RStudio Cloud. We will email you the tutorial materials.
Instructors:
Dr. John Blischak received his PhD in Genetics from the University of Chicago. He is the author of the CRAN package workflowr, and has years of experience performing reproducible data analysis with R, R Markdown, and Git. He is a certified Software Carpentry Instructor, and has taught over 10 workshops for researchers covering topics such as Bash, Python, R, and Git.
Dr. Peter Carbonetto, a co-author of the workflowr R package, is a research staff scientist in the Human Genetics Department and the cross-disciplinary Research Computing Center at the University of Chicago. He has a background in computer science and machine learning, and currently does research at the interface of genetics, statistics, and computer science. He frequently gives R and bioinformatics skills workshops at the University of Chicago.