Calling all innovators and inventors, explorers and experimenters... It's time to get curious, ask questions and problem-solve!
About this Event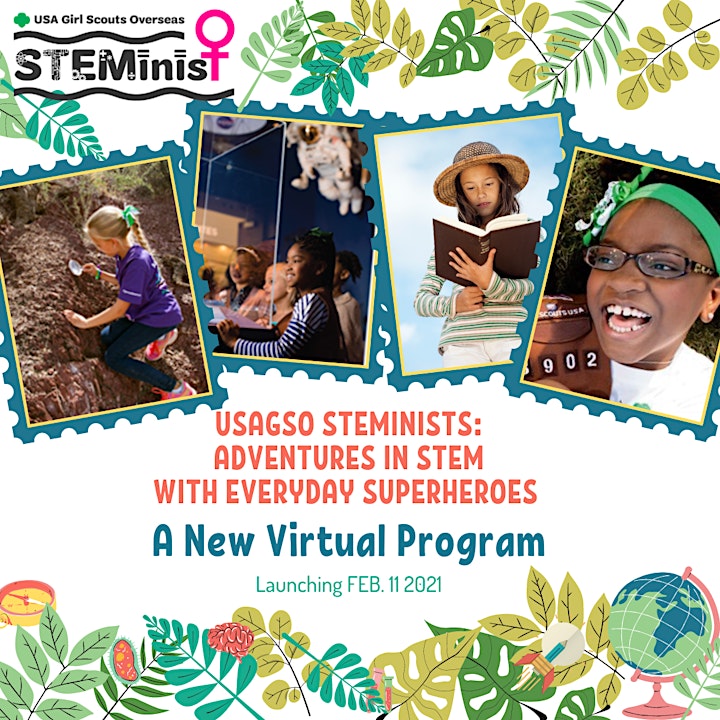 You are invited to join our NEW virtual series in 2021, USAGSO STEMinists: Adventures in STEM with Everyday Superheroes! USAGSO STEMinists is an engaging, virtual STEM program series for Girl Scouts Overseas led by STEM Superheroes – real women working in science, technology, engineering, and math (STEM). During each program in the series, Girl Scouts will experience STEM with a Superhero.
PROGRAM PASS DETAILS
This pass gets you access to 12+ STEMinist events in 2021, including:
February 25: Dr. Paula Garcia Todd, Chemical Engineer - The Naked Egg
March 6: Dr. Harshini Mukundan, Microbiologistv(Daisy/Brownie or Juniors and Above) - Gummy DNA
March 25: Dr. Olivia Mullins, Neuroscientist (Juniors and above) - Activity TBA
March 30: Erin Twamley, Author - Coding for Good ***Exclusive session just for Program Pass holders!***
April 17: Janice Lao, Environmental Scientist - Art, Nature, and Math: What Do They Have in Common?
April 24: Iris Caldwell, Reality Television Personality & Jasmine Cox, Textile Engineer - Dress a STEMinist
May 8: Dr. Kristen Lear, Bat Conservationist - Build Your Own Bat Wings
June 5: Dr. Melissa Cristina Márquez, Marine Biologist (Daisy/Brownie or Juniors and Above) - Ocean Zones in a Jar & Shark Anatomy and Tagging
September 11: Dr. Davina Durgana, Human Rights Statistician - Activity TBA
September 18: Dr. Jessica Fagerstrom, Medical Physicist - Pennies, M&Ms, and Radioactivity!
November 6: Dr. Arlyne Simon, Biomedical Engineer - Activity TBA
Coming Soon! Additional STEMinist sessions will be added here as they are confirmed. Stay Tuned!
For more information on each presenter, please visit our USAGSO STEMinist web-page.
WHEN
Our first STEMinist session is February 25th; we will offer at least 1 session (sometimes more!) each month. Please visit our website and/or the individual registration links above for more details on each session.
WHO
These events are open to all program grade levels (Girl Scout Daisies through Ambassadors) and adult volunteers.
COST
$30.00 per girl for 12+ programs, adults may attend at no cost with their Girl Scout(s). The cost of the program pass includes the STEMinist patch.
Additional merchandise, including autographed copies of our STEMinist host, Erin Twamley's book, Everyday STEM Superheroes: Women in STEM Careers, can be purchased separately in our Overseas Girl Scout World Shop!
SUPPLIES
A list of supplies needed for the activity will be sent 1-2 weeks prior to the event to the email address provided during registration.
LOCATION
A confirmation email with Zoom meeting details will be sent 1-2 days prior to each event to the email address provided during registration.