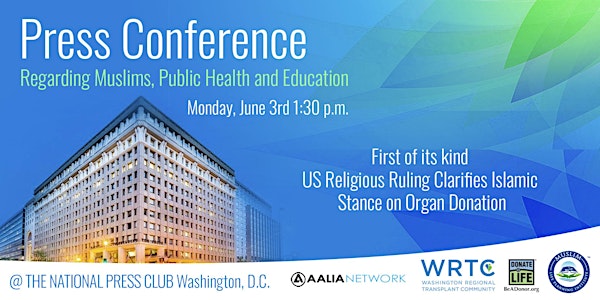 US Religious Ruling Clarifies Islamic Stance on Organ Donation
Press Conference on the Islamic Stance on Organ Donation
When and where
Location
National Press Club 529 14th Street Northwest Washington, DC 20045
About this event
On Monday, June 3rd, the Washington Regional Transplant Community, the Muslim Life Planning Institute, AaliaNetwork, LLC, and other community leaders will hold a 1:30 p.m. news conference at the National Press Club in Washington, DC to announce "Muslims in the U.S.A. are permitted to Donate and Accept life giving organs."
National and local Organ Procurememt Organzarions (OPOs) as well as related Medical & Health Professionals will also be in attendance.
WHAT: First of its kind U.S. religious ruling clarifies Islamic stance on organ donation.
WHEN: Monday, June 3rd 1:30 p.m.
WHERE: The Zenger Room, National Press Club, 13th Floor National Press Building, 529 14th Street N.W., Washington, D.C.
CONTACT: Felicia McLain-Ali, (410) 672-2934, email: ea@aalianetwork.com, or Imam Johari Abdul-Malik, email: imamjohari@gmail.com.
Immediately Following the Press Conference - Profound Conversations.
This religious ruling helps lift the veil on some of the archaic darkness around permissibility; however, there remain serious concerns regarding Muslim Family Dynamics, Cultural Competency, un-addressed Economic Health Determinates as well as end of life Imperatives and Directives. The Muslim Life Planning Institute will introduce through Profound Conversations the evidence that the organ donation dialogue … referenced above, leads to the extremely important and valuable work that needs to be done going forward.