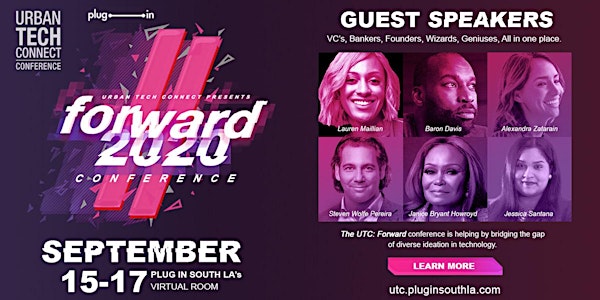 Urban Tech Connect 2020 // Forward - Conference Virtually on the Hopin
The Urban Tech Connect Conference 2020 // Forward
About this event
Urban Tech Connect Conference 2020 (UTC) // Forward 
A different type of conference for those who think differently.Not business as usual.
Venture Funds, Financiers, Founders, Wizards, and Geniuses.
All coming together in one place (Virtually)
Who you will meet:
Diverse Founders and Executives from various tech ecosystems across the country
Start Up Teams
VCs & Angel Investors
Technologist & Tech Professionals
Job Seekers
Executives Professional resources (Banking partners, Recruiters, Legal advice, Incubators / Accelerator directors)
Conference Sessions and Tracks
Founders & Start Up Teams
Technology and Jobs
Investors and Fundraising
Professional Development and Growth
Gaming StartUps
Next Generation of Tech
Skill Building
Office Hour Sessions (Meet with Investors, Recruiters, Tech Professionals, Accelerator Recruiters in private 1:1 virtual sessions. Sign up after you register)
Organizer: Plug In South Los Angeles 
Venue:  Virtual Conference on The Hopin Platform. Please create profile on Hopin prior to the conference.
Full agenda details and login instructions to be provided up registration.
Click here to view Featured speakers and agenda.
Registration & Questions (scholarships, partnerships, sponsorship):
Email: info@pluginsouthla.com
See speaker bios and learn more about the conference here.