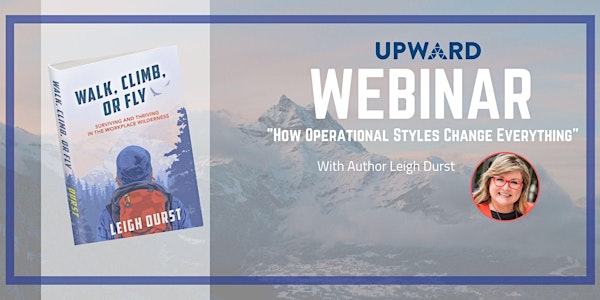 UPWARD Webinar "How Operational Styles Change Everything"
Refund Policy
Contact the organizer to request a refund.
Description
How Operational Styles Change Everything
Myers-Briggs, Enneagram, Strengths Finder, DISC … Today, there are more than 40 different methodologies used to assess your personality type, temperament, leadership style, method of thinking, intelligence, learning style, and more!

While options abound, it can be difficult to leverage what we learn to materially improve the way we approach work. In the modern "Workplace Wilderness," it can be hard to navigate tough interpersonal terrain, internal politics and workplace culture to find our way, secure the right job "fit," manage ourselves and others well!

Join us on Thursday, September 5th for a webinar to discover a simpler approach. We are welcoming Leigh Durst, a 25-year business veteran and author of Walk, Climb or Fly: Surviving and Thriving in the Workplace Wilderness.

Leigh's totally new, highly memorable framework will change your view of complex workplace dynamics and introduce a better way to work.

Discover the three "Operational Styles" found in every workplace and how your style shapes the way you approach work, relationships and "getting things done." Find out if you Walk, Climb or Fly - and how understanding just three simple styles can help you better understand yourself and others – align work to your own design, unleash your professional potential, improve workplace relationships and unleash remarkable collaboration!

Sign up for the webinar today and you'll receive a complimentary softcover copy of "Walk, Climb or Fly." Proceeds for this event are tax deductible and go directly to Upward Women! Make sure you fill out shipping address on registration link to ensure delivery of your complimentary book.


---


Thursday
September 5, 2019
12:00 pm - 1:00 pm (PT)

---
UPWARD events are open to our executive-level, female members. If you are currently not an UPWARD member, by registering for this event you are accepting a complimentary UPWARD membership.
NOTE: We will accept cancellations only up to 72 business hours prior to the event. Any notices after that time is not refundable (for paid events). Because UPWARD is a 501(c)(3) non-profit, we would appreciate your consideration of a tax-deductible donation versus a refund.