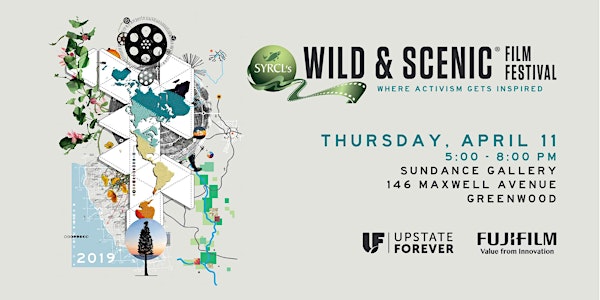 Upstate Forever and Fujifilm Present the Wild & Scenic Film Festival
When and where
Location
Sundance Gallery 146 Maxwell Avenue Greenwood, SC 29646
Description
Join us for an exclusive screening of a collection of illuminating films, along with commentary from some of the region's environmental leaders. Happy hour featuring drinks and hors d'oeuvres begins at 5:00 p.m. Film screening begins at 6:00 p.m.
Tickets are just $5 and include drinks and hors d'oeuvres. Capacity is limited. Reserve your seat today!
---
This short film festival's 9 screenings include:
A NEW VIEW OF THE MOON:
Become reacquainted with awe alongside strangers interacting with a telescope trained on the moon. Watch as Wylie Overstreet takes a telescope around the streets of Los Angeles to give passersby an up-close look at a familiar object: a new view of the moon.
CLAY BOLT:
Clay Bolt is a natural history and conservation photographer for World Wildlife Fund and has been featured in prominent magazines such as National Geographic. Affectionately referred to as the bug guy, Clay explains how and why he focuses on 99% of life on earth that is smaller than your finger.

AIDEN'S BUTTERFLIES:
Meet 11-year-old Aiden Wang, who has been growing milkweed and harboring and releasing Monarch Butterflies since he was 6 years old. We join Aiden in a journey ranging from nature preserves to city streets as he meets new friends and asks us all to help preserve the endangered beautiful monarch butterfly with its dependence on the diminishing supply of milkweed.
GIVERS AND TAKERS:
Don Jackson in Ware Shoals, SC transitions from conventional cattle production to a grazing method – AMP grazing – that improves the environment and benefits the farmer, his land, animals and bottom line. Jackson shares the exciting early results evident within a year from when he started making these changes.
OUR LAST TRASH:
This film highlights the current global recycling crisis and the adverse effects of disposable plastics on the environment. Our Last Trash explores the meaning of a "zero waste" lifestyle, and how some individuals are combating this plastic issue one reusable item at a time.
IF THEY BUILD IT, WHAT WILL COME?
The Cahaba River is one of the Southeast's most iconic river systems. Urban sprawl in Alabama's largest metropolitan area has already placed a great strain on this important river system and now the proposed Cahaba Beach Road threatens to destroy the area along the Little Cahaba River that is the drinking water source for hundreds of thousands of people in the area. This film exposes the risk of building a road across an important forested stretch of river and how citizens and watershed groups are fighting to protect this precious resource.
DOWNSTREAM:
Following years of intensive fertilizer use on farms, more than half of Iowa's waterways do not meet federal quality standards. Now, an unlikely coalition is calling for stricter controls to clean up the drinking water sources for millions of the state's residents.
ASHES TO ASHES:
A small community in Northeast Alabama. A mayor whose town sits on the river's banks. A businessman in the Mobile Bay. All are impacted by coal ash, a pollution by-product of burning coal, in Alabama.
Billions of tons of ash are stored in unlined pits alongside our rivers and streams causing harmful pollution such as mercury, arsenic, and many other heavy metals to be dumped into waterways where we fish, swim, and drink. Ashes to Ashes tells the story of coal ash in Alabama and what you can do to call on the electric utility companies to become leaders by cleaning up the pollution they have created.
L'ORCHESTRE D'HIBERNATION ANIMAUX
(HOW ANIMALS HIBERNATE):
What if hibernating animals of different species formed an orchestra and performed a symphony about their winter's sleep? Well, they did—sort of. Because this is the science version of "Peter and the Wolf," starring a frog, a turtle, a bird, a mosquito, a bear, and a fish… Ladies and gentlemen, "The Sleep Cycle" by L'orchestre D'hibernation Animaux.
and lastly,
CARPE DIEM:
In a city of people trying to catch a break, one lucky man hooks into an unexpected dream that becomes the role of a lifetime, reminding him to seize each new day as a chance to do what he loves.