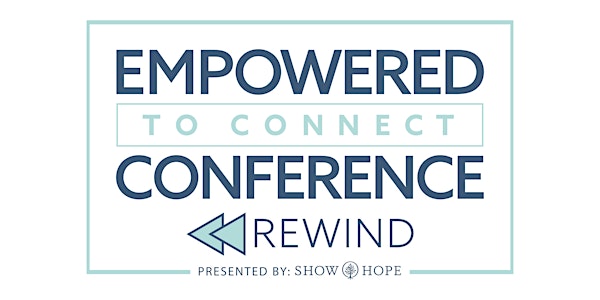 UPDATED:HOME VIEWING OPTION! 2020 Empowered To Connect REWIND 2019 Simulcas...
Location
VIEW AT HOME - HOST:First United Methodist Church
2941 South Koke Mill Road
Springfield, IL 62711
Refund policy
Refunds up to 1 day before event
Description
UPDATE: NOW WATCH THE SIMULCAST FROM HOME!!
In light of the COVID-19 pandemic, Show Hope and Empowered to Connect is offering individual/family viewing options to those who have registered for a Simulcast Conference.
Once you have registered for THIS event, you will receive a link to register through Empowered To Connect - at no cost. Once you have registered, you will receive a confirmation email with the Event Link and all necessary instructions. The Event will be available for viewing until May 31, 2020. Show Hope asks that the link not be shared with others, but others can register for their own link.
Please note: Information on continuing education can be found at http://rewindcontinuingeducation.eventbrite.com/
===========================================================
Empowered To Connect REWIND Simulcast Presented by Show Hope.
Experience practical teaching in a safe and supportive community as we work to equip families, churches, and professionals to better serve children, especially those who have experienced trauma or loss, including children impacted by adoption and foster care.
Featuring Trust-Based Relational Intervention® methods developed by Dr. Karyn Purvis and Dr. David Cross from the Karyn Purvis Institute of Child Development at TCU to help bring attachment and connection in families. The content is ideal for adoptive and foster parents, those considering adoption or foster care, and those who are serving and supporting others, including social workers, agency professionals, church staff and ministry leaders, counselors, and therapists.