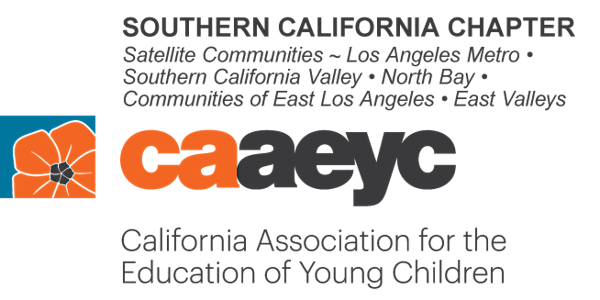 Update on Developing an ECE Credential in California
Southern California Chapter of the California Association for the Education of Young Children presents
About this event
Southern California  Chapter of the California Association for the Education of Young Children
presents a continuation of the March 29 conversation on the ECE Credential:
"Update on the Development of an ECE Credential in California"
A virtual presentation
Monday, June 6, 2022
5:00-6:30 p.m.
Limited space. Register early.
Description:
There is a projected shortage of over 12,000 for California Transitional Kindergarten (TK) teachers. The Commission on Teacher Credentialing (CTC) is developing credential pathways to prepare teachers for TK, including a Pre-K to 3rd-grade credential and program accreditation. This is a continuation of the meeting on March 29, 2022.
Presenters:
Dr. Helen Davis, UCLA Extension, PEACH
Dr. Janet Fish, CSUN ECE MA Program, PEACH
Dr. Denise Kennedy, Cal Poly Pomona, PEACH
Dr. Sandra Moe, Rio Hondo College, PEACH
(PEACH- an Early Childhood Higher Education Collaborative)
SCC-CAAEYC is happy to provide this opportunity to members as we continue to explore this topic with ECE experts and members of the ECE field.
No fee. This is a members-only event. If you are a member of NAEYC, you may register.
Become a Member! - Membership Information, www.naeyc.org
For general information please contact:
Blanca Alarcon
SCC-CAAEYC Vice-President of Programs
scc.caaeyc@gmail.com
Registration and attendance at, or participation in, SCC-CAAEYC events and other activities constitutes an agreement for SCC-CAAEYC, or anyone authorized by SCC-CAAEYC, to record and use, as SCC-CAAEYC may desire in its sole and absolute discretion, all recording and reproductions or depiction of such exhibitor's, or attendee's name, likeness, voice, persona, words, actions, and /or biography, which SCC-CAAEYC may make, including without limitation, the right for SCC-CAAEYC, or anyone authorized by SCC-CAAEYC, to use such recordings, reproductions, or depictions in or in connection with any legitimate purpose, including for advertising, publicity, trade, and editorial purposes, at any time in the future in all media now known or hereafter developed, throughout the world.