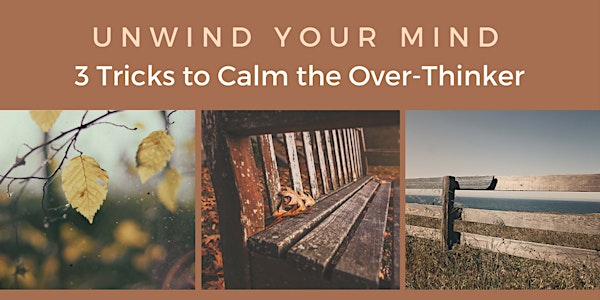 Unwind Your Mind: 3 Tricks to Calm the Over-Thinker
When and where
Location
New Approaches 200 High Street Portland, ME 04101
Description
Are you an over-thinker? If so, you probably already know that over-thinking often increases stress and negatively impacts mood. We can feel powerless over the spinning thoughts. It's overwhelming to know where to start.
You don't have to do it alone.
We are eager to help you jump-start your journey to a quieter mind and a greater sense of ease.
In this 1.5 hour workshop, facilitator Sam Durham, LCSW, will guide the group through a fun and informative evening with new tips and insights on exactly what to do to increase calm, let go of stress, and to be more mindful.
You will leave with:
Clarity about your current stress level and how it is impacting your life right now.
New perspectives on how to deal with your stress in effective ways, using strengths you already possess.
3 proven tools to calm your mind and body, and the time and space to practice these skills.
Awareness of how to use your body to quiet the mind, in simple ways that you can use immediately.
An action plan for integrating these new tools into your life RIGHT NOW.
Questions? Please email Hannah Curtis, owner of New Approaches, at hannah@newapproachesme.com.