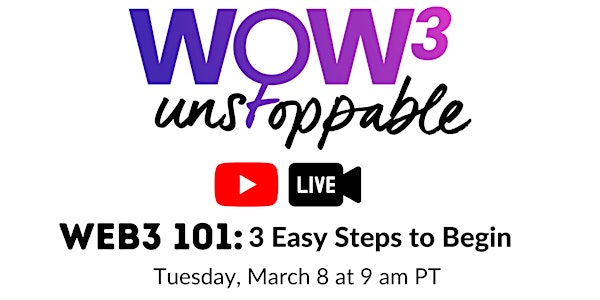 Unstoppable WOW3 - YouTube LIVE 'Web3 101'
Join the Unstoppable Women of Web3 for a YouTube LIVE event to get a lesson on Web3 101!
About this event
To celebrate International Women's Day and our commitment to diversity and inclusion, we're doing something big! Women and allies all over the world have joined forces to support the Unstoppable Women of Web3. What is UWOW3? Unstoppable Women of Web3 is a community, a movement, and alliance of over 50 industry leaders and companies actively working to support education and opportunities for women and minorities in #Web3! We're creating education & employment opportunities and donating to organizations such as Girls in Tech.
Join our Youtube LIVE event on March 8th at 9 am PT to learn more about the Unstoppable Women of Web3. We are offering a promotion code for a free domain valued at $50 to everyone who registers!
We'll be discussing:
Down the rabbit hole - Terminology
Why web3? Beliefs of web3
How it all fits together
How to start:1-2-3
Where do you go from here?
Follow the journey here: https://twitter.com/UnstoppableWoW3
To learn more, check out our website: https://www.unstoppablewow3.com/