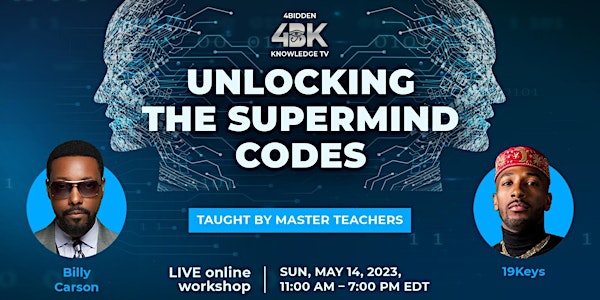 UNLOCKING THE SUPERMIND CODES by Billy Carson and 19 Keys
Learn how to UNLOCK the SUPERMIMD Codes. Taught by Master Teachers Billy Carson and 19 Keys
Date and time
Sunday, May 21 · 8am - 4pm PDT
About this event
Learn how to UNLOCK the SUPERMIMD Codes. Taught by Master Teachers Billy Carson and 19 Keys. We will teach you how to access your SUPERMIND codes via unique thought experiments. You won't get this level of teaching anywhere else!
Billy Carson is the founder and CEO of 4BiddenKnowledge Inc, the Best Selling Author of The Compendium Of The Emerald Tablets and Woke Doesn't Mean Broke. He is also the winner of the 2022 Stellar Citizens Award.
Mr. Carson is also the founder and CEO of 4BiddenKnowledge TV, a new conscious streaming TV network, and the Co-Host of Bio-Hack Your Best Life, He also is also a writer and contributor Rolling Stones, Bizjournals and Entrepreneur magazines.
Mr. Carson appreciates the dedication and hard work it takes to accomplish great things. Recently, Mr. Carson earned the Certificate of Science (with an emphasis on Neuroscience) at M.I.T. and has a certificate in Ancient Civilization from Harvard University. Among his most notable achievements, Billy is the CEO of First Class Space Agency based in Fort Lauderdale, FL. Specifically, his space agency is involved in research and development of alternative propulsion systems and zero-point energy devices. .
Jibrial Muhammad ( #19keys ) is a St. Louis Born, West Oakland-raised Thought leader, Entrepreneur and Public Speaker.
Curating and presenting thoughts to Enlighten the Mind. We are living in a Paradigm Shift within the subconscious and conscious mind, yet there is a difference in our levels of awareness -- which means there is a difference in our perception of life. Often times, we are limited by our pattern of thinking, how we perceive ideas and the world. What sets one man or woman apart from the other, is how he or she thinks. What sets man apart from other forms of life is our higher thinking and our higher consciousness.
What if society had the Keys/ Qi / Chi or Energy in the form of thoughts, in order to assist in unlocking the mind to become actively enlightened?
Changing our patterns of thoughts, through the study and practical application of Philosophy, Psychology, Physics and History, for the understanding of the modern world at the micro and macro levels, how to stay on the right journey towards success and even more so, how to approach everyday life.
To facilitate the liberation of ones mind for the journey of life, these keys will help you in changing your pattern of thoughts towards your life's Consciousness, Enlightenment, Social Structure, Family, Friends, Self-Awareness and Beyond.
It is my belief, that our greatest leaders throughout time and history, desired for us to achieve a higher reasoning; a higher thought pattern, to give us a higher mind, so that we may be never led into darkness again.
About the organizer
Billy Carson is the 'Best Selling' author of 'The Compendium of The Emerald Tablets.' Carson and the CEO of 4biddenknowledge TV. Mr. Carson is also an expert host on the new original streaming series by Gaia named Deep Space. The series is an exploration of the "Secret Space Program" and the types of technologies being used along with their potential origins. Carson is also an expert host on Gaia's original series, Ancient Civilizations. A team of renowned scholars has come together to decipher the riddle of our origins and piece together our forgotten history found in monuments and texts across the world.