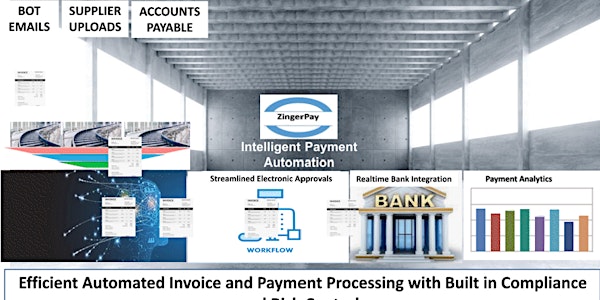 Unlocking the Promise of Automation & ML in Corporate Payments
Unlocking the promise of Automation & Machine Learning in Corporate Payments
About this event
Today businesses spend an average of $11.57 apiece and take 8.6 days to manually process an invoice
Automation and Machine learning drive these averages down to $2.18 and 2.9 days, respectively, representing cost savings of 81% and time savings of 66%.
This is achieved through the avoidance of human cost of paper-based processes:
Paper invoices must be gathered from the mail, opened, entered, and double-checked for accuracy
Hand-deliver approval requests often require reach out to multiple departments
Time is often wasted chasing down requested information.
Manual data entry if error prone
Automation and Machine learning also reduce the risk of Compliance Violations by flagging incidents such as changed vendor bank account, which may go unnoticed by a human who processes dozens of invoices a day and is typing them in as fast as they can.
Manual invoice processes are unable to :
Track and enforce accounts payable policies and efficiently conduct audits
Achieve document retention requirements and avoid accidental destruction of documents are additional benefits
By attending this webinar, attendees will learn how to seamlessly implement Automation and Machine Learning into their Accounts Payable processes.