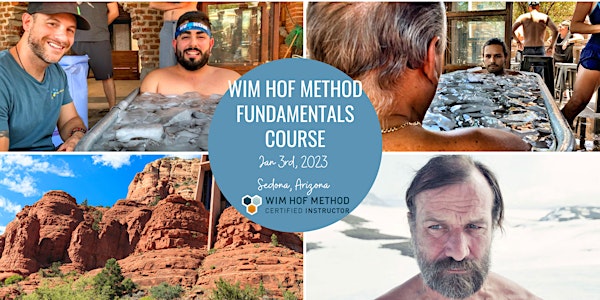 Unlock Your Inner Superhuman: Wim Hof Method Fundamentals Course
Unlock Your Superhuman Potential with the Wim Hof Method: Learn Breathwork, Cold Exposure, and Mindset for Optimal Health and Performance
By Michael Roviello, Certified Instructor and Co-founder of Optimyze.me
Date and time
Saturday, June 3 · 10am - 3pm MST
Location
Sun Moon Studio Sedona 2050 Yavapai Drive #Suite 3A Sedona, AZ 86336
Refund Policy
Refunds up to 7 days before event
Eventbrite's fee is nonrefundable.
Agenda
Agenda
Untitled agenda
Untitled agenda
Untitled agenda
Untitled agenda
Untitled agenda
Untitled agenda
Untitled agenda
Welcome and Introductions
About this event
Sedona ! Unlock Your Superhuman Potential with the Wim Hof Method! In this 5-hour course, certified instructor Michael Roviello will teach you the fundamentals of the method, including breathwork techniques and cold exposure. You'll learn how the method can help you boost your immune system, reduce stress, increase energy levels, and improve overall health and wellbeing.
By unlocking the power of your mind and body, you'll be able to tap into your full potential and achieve new levels of performance and inner strength. Attendees will also receive a complimentary day pass to Optimyze, a Human Optimization Center in Phoenix, and access to a virtual continuing education training for ongoing support and community. Don't miss this opportunity to transform your life and become a part of the growing tribe of Wim Hof Method enthusiasts. Register now!
Frequently asked questions
What is the Wim Hof Method?
What will I learn in the Wim Hof Method Fundamentals course?
Is the course suitable for beginners?
Is the course physically demanding?
Do I need to bring any equipment or special clothing?
What are the benefits of the Wim Hof Method?
Is the course a one-time event or an ongoing program?
Who is the instructor for the course?