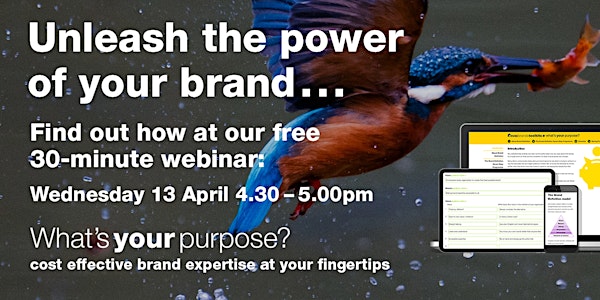 Unleash the power of your brand – it's easy with What's your purpose?
Make your brand as strong as possible in a few simple steps.
About this event
Brand strength is what makes the difference between success and failure. But building brand strength isn't always easy… nor cheap, as it often involves months of expensive consultants.
Now it doesn't have to. What's your purpose? is the revolutionary new approach to building brand strength. Written by experts, this comprehensive, online, DIY brand development toolkit contains all you need to build a strong brand yourself.
So, if you're looking to strengthen your brand, the hassle-free way then this webinar is for you.
It will explore:
Strong brands – what they are and why you need them
How to create your own professionally – demonstrating what 'What's your purpose?' will deliver and how it works.
It could be the best 30 minutes you spend and it's absolutely free.