Location
Pixel Building
10 Central Exchange Green
Seminar Room, Level 2
Singapore, 138649
Singapore
Sales Have Ended
Registrations are closed
We are very sorry that all the seats are taken at this moment, please check back from time to time for cancellations or additional seats. Walk-ins may be accepted on that day if there is any no show or last minute cancellations, however, it is not guaranteed you will get a seat.
Description
This workshop is in support of XR.HACK 2019, an XR hackathon happening on 13-14 July at PIXEL. Try out your Unity skills on the latest VR, AR and MR hardware. More info and registration at
https://www.imda.gov.sg/impixel.events/xr-hack"
Priority will be given to those who have not attended any of the following workshops - Introduction to Unity (21 Nov 2018), Intermediate Unity (11 Jan 2019) and Advanced Unity workshops (18 Feb 2019).
Get introduced to Unity by creating a simple game from scratch using basic Unity features. See what are the possibilities with Unity and the AR/VR applications that can be created with Unity.
Takeaways
- familiarize with the Unity Editor
- import assets to the project (image, 3d models, audio clips)
- setup imported assets with materials
- work with prefabs
- handle user input via keyboard
- build a simple user interface with buttons that will react to user mouse clicks
- create simple particle effects
- play audio clips
- introduced to the process of creating AR/VR applications
Proficiency level
Absolute Beginner
Pre-requisites
- Laptop is Required
Here's the list of upcoming workshops, passes will be available via EventBrite closer to the date.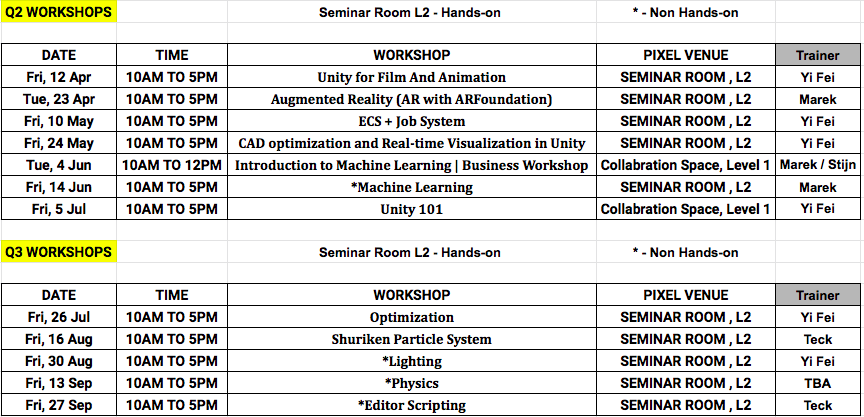 Note -
to attend the workshop, a valid pass is required.
no fee will be imposed on the attendees, a no show would mean you will not be assigned a valid pass for subsequent workshops (to attend, you can try to do a walk in for subsequent workshops and will be accepted if there are vacancies).
Walk-ins will only be accepted if we have any last minute dropouts (do note that participation is not guaranteed while a wait outside the venue of at least 30 mins is expected), do note that participation is not guaranteed unless with a valid pass. If we have a full turnout, we apologize that any walk-ins will be rejected.
as this is a workshop series in partnership with IMDA, priority will be given to those living in Singapore.
To facilitate communication and follow ups, we will require a working Singapore mobile number at registration, any passes issued will be automatically cancelled if no local mobile number provided.
If you can't attend, please email us at events_sapac@unity3d.com at least the day prior to the session, so we can release the seat.