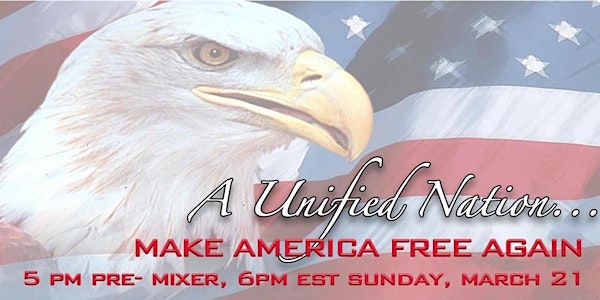 UNITY SUMMIT - Make America Free Again Virtual Summit
Sales Have Ended
Registrations are closed
Ticket sales have ended. Please check our Rumble channel or Clouthub channel for rebroadcast. https://www.clouthub.com/unitysummit - available 03/22/21 https://rumble.com/defendflorida - available 03/23/21
Make America Free Again - Freedom-loving Americans are RETAKING America!
About this event
The event has started
Here is the direct link:
https://hopin.com/events/live-make-america-free-again-unity-summit
Make America Free Again Unity Summit
Our country faces an imminent threat to our very freedoms and way of life. If we do not UNIFY NOW, we can say goodbye to the experiment called America.
In this virtual summit, you will hear from state and national leaders who are on the forefront, restoring our republic and fighting for our rights at the grassroots level. You will learn what you can and must do to help save the America that our founding fathers established more than 200 years ago. No one is coming to save us. WE are the people we have been waiting for. It is up to We the People now.
Speakers:
Sidney Powell, Founder Defending the Republic PAC. Sidney worked in the Department of Justice for 10 years, in three federal districts under nine United States Attorneys from both political parties. She was lead counsel in more than 500 federal appeals.
Sheriff Mack is the former sheriff of Graham County, Arizona and a political activist. He is known for his role in a successful lawsuit brought against the federal government of the United States which alleged that portions of the Brady Handgun Violence Prevention Act violated the United States Constitution.
Jeff Brain, CEO of Clouthub, a Next-Gen social media platform. Mr. Brain previously occupied the position of President at Valley Vote, Inc. and Chief Operating Officer at Smokey Robinson Food Co.
Raj Doraisamy, Founder Defend Florida and Matrix Business Accelerator, Raj is a CPA and Entrepreneur. Invented the Virtual Video Interview System to automate job interviews.
Caroline Wetherington MBA, Co-Founder, Defend Florida and President of Women For Trump Florida, BeeLove Rescue and Wetherington Investments, LLC. Caroline is an entrepreneur, leader and grassroots activist.
Frank de Varona is an educator, historian, journalist, and internationally known expert on politics, economics, foreign affairs, and national security issues. He has written 27 books, including six on the Obama administration. At the age of 17, he participated in the Bay of Pigs invasion of Cuba. After the defeat, he was sentenced to 30 years in prison and served two years.
Christie Hutcherson is the CEO/ Founder of Women Fighting for America LLC (WFFA). Christie is dedicated to defending America. Our focus is to educate, spread biblical truth, protect values and the constitution; to expose those seeking to undermine our sovereignty as a nation.
Sheila Griffin, pastor and federal litigator her foundations of faith are entrenched in pursuit of truth, anchored in the lavish love of God.
Main Event: Sunday, March 21 at 6pm EDT; 3pm PST; 5pm CT
Pre-Party: Sunday, March 21 at 5pm EDT
Post-Party: Sunday, March 21 at 9:00pm EDT
NOTE: We have added a PRE-PARTY & POST-PARTY to this event.
PRE-PARTY starts at 5:00 PM eastern and will include music, video and additional speakers.
POST-PARTY starts at 9:00 PM eastern and will include breakout sessions where you can interact with speakers and get connected with grassroots organizations in your state!