Location
Komedia Brighton
44-47 Gardner Street
Brighton
BN1 1UN
United Kingdom
Join us at Unity Developer Day Brighton for an exciting day of development talks, games, interactive media, and more Unity updates!
About this event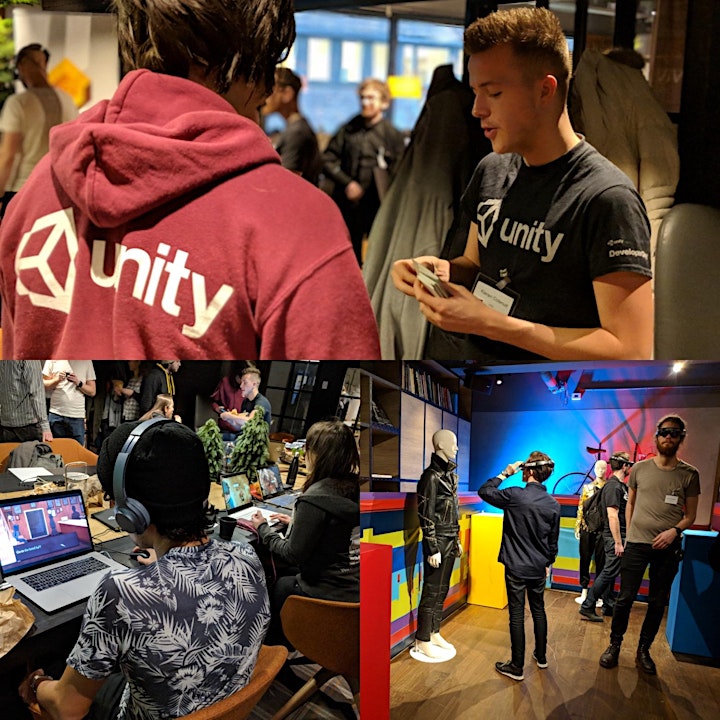 The annual Unity Developer Day conference tour is back with more dates than ever! Our third event on the EMEA tour will be in our hometown Brighton, UK for the second year in a row!
Unity Developer Day is a conference series dedicated to supporting local developers through the exchange of stories and skills that promote the creation of successful Unity games and interactive media.
Join us at Unity Developer Day Brighton for an exciting day of development talks, games, interactive media, and more Unity updates: Brighton, July 8th - the day before Develop starts!
Our Brighton edition brings together the local Unity community and Unity staff to share their expertise through a full-day conference track, networking lunch, and a showcase of local projects made with Unity.
Local speakers will share experiences and insights gained throughout the creation of their Unity projects - be it through programming, design, art, audio, business, and more.
Expert Unity evangelists together with guest speakers will give talks focused on how local developers can get the most out of their work with Unity and its services.
100% of all proceeds raised from the event will be donated to SpecialEffect!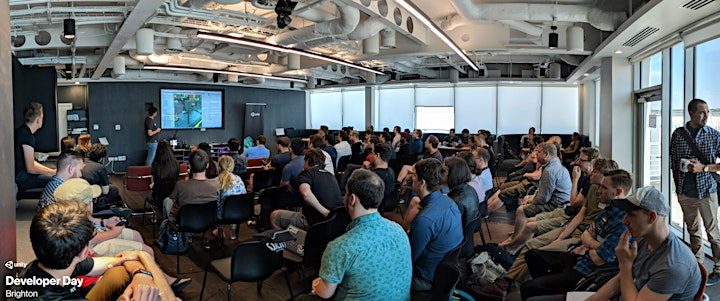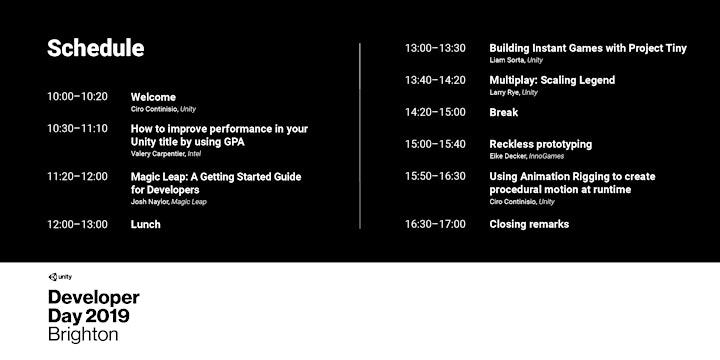 Confirmed talks
Building Instant Games with Project Tiny
Liam Sorta, Technical Evangelist - Unity (@LiamSorta )
With the rise of interactive web experiences, there is an increasing demand for fast loading times and contained download size. Learn how Project Tiny is powering instant games with build sizes of just a few MB!
Reckless prototyping
Eike Decker, Software Developer - InnoGames (@zet23t)
Prototyping is an important creative process when developing games. In this phase, speed is a top priority: The sooner something can be tried out, the sooner the team can decide which direction is worthwhile to pursue - and the sooner the prototype can be thrown away, in case that the direction turns out to be a dead end.
Throw away prototype code differs from production quality code development in many aspects: Maintainability, readability, testability and performance is not that important. All this is in stark contrast to how developers tend to work on production code, which can make it hard to switch into when writing prototype code.
This talk goes into details of these different aspects and requirements using actual examples that show how scary coding practices can be just the right thing to do when working on a prototype.
Using Animation Rigging to create procedural motion at runtime
Ciro Continisio, Technical Evangelist - Unity (@CiroContns )
In this talk, we will go over the new Animation Rigging package and how to set it up. With this package, you can take skeletal characters animated in a DCC tool and add powerful rigs that generate additional motion to it when the game is in Play Mode. This allows to create effects that react to the gameplay at runtime like a character looking or pointing to a moving target, or simply to generate physical motion that would be hard to keyframe by hand (like a ponytail).
It doesn't have to be hard : How to improve performance in your Unity title by using GPA
Valery Carpentier, Senior Game Developer Relations - Intel (@IntelGraphics)
Maximize your Unity game performance on a wide range of hardware. Learn how to use Intel Graphics Performance Analyzers (Intel GPA) to identify and quantify common performance bottlenecks, how to mitigate them and validate optimizations. Using Intel GPA exciting new features we will show how to gain deeper knowledge on the runtime execution of your game, easily identify problematic frames and improve your game's overall performance.
Magic Leap: A Getting Started Guide for Developers
Josh Naylor, Senior Dev Tech Engineer, Developer and Creator Relations - Magic Leap (@JoshNaylor )
In this session Josh will cover how to get started developing for the Magic Leap One: Creator Edition, how to set up the development environment in Unity, work with the emulator, go over the devices features and inputs and make a demo that will be deployable to the device instantly using the Magic Leap Remote for Zero Iteration.
Multiplay, Scaling Legends
Larry Rye, Lead Solutions Engineer - Unity (Multiplay)
Follow #UnityDeveloperDay on Twitter to catch the latest news about talk announcements, event updates, and more!
Interested in showcasing at Unity Developer Day: Brighton? Get in touch! You can submit a request through our request form!
Big thank you to our friends at InnoGames for your support and making this event possible!

InnoGames is Germany's leading developer and publisher of mobile and online games. The company based in Hamburg is best known for Forge of Empires, Elvenar and Tribal Wars. InnoGames' first mobile title Warlords of Aternum is a fantasy turn-based strategy game. InnoGames' complete portfolio encompasses seven live games and several mobile titles in production. Born as a hobby, InnoGames today has a team of 400 employees from more than 30 nations who share the passion of creating unique games that players across the globe enjoy for years.