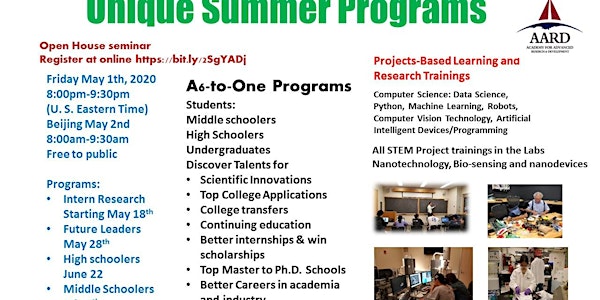 Unique Summer Programs
Introduce our unique summer research programs and project-based learning for middle school students, high school students, & undergraduates
By Academy for Advanced R & D (AARD)
When and where
Date and time
Friday, May 1, 2020 · 5 - 6:30pm PDT
About this event
AARD offers unique research training programs for diversy students from middle schoolers, high school students, and colleges plus master students in all field. This seminar will give introduction of our programs , and share our students testmonies that have led them to top universities and to leading indurstry.
Students from 7th graders above, especially 10th graders above to college students, community students are welcome to join us. International students can join our summer programs for research trainign and world future leader training as well.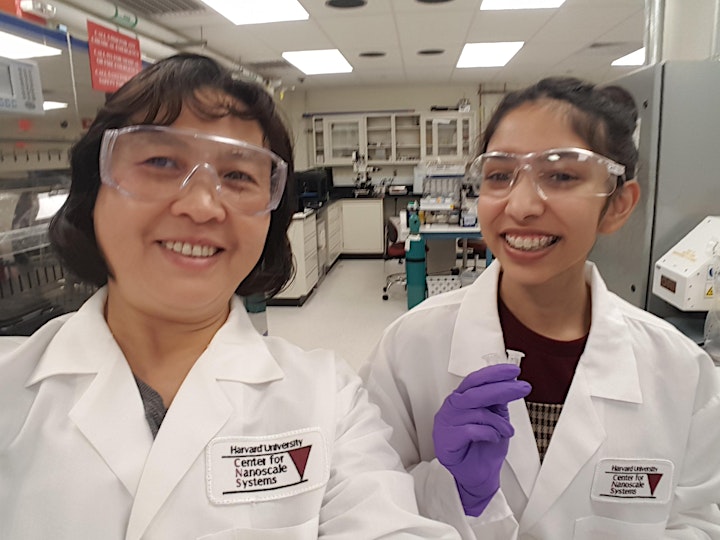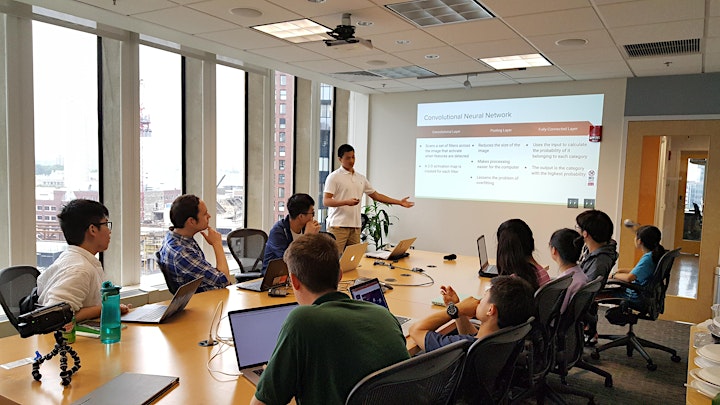 About the organizer
The AARD is devoted to providing young scholars with high-quality STEM and other field intern programs with professional training targeting Ivy Universities and better careers with vision and wisdom minds. We offer unique A6-to-One programs, which integrates lab research, cutting-edge technologies, problem-solving, integrated Artificial Intelligence, Data Science, Machine Learning, Deep Learning, Python, Robotics, and basic sciences of chemistry, physics, biology, as well as internship training in business fields. As the advances of sciences and technologies, these short-term programs are expanding to interdisciplinary fields in nanosciences and nanotechnologies, nanodevices, biosensing, bioinformatics, medical sciences, nuerosciences, mental health, public health, enviromental sciences, astrophysics, geochemistry, and green energy devices and applications. Under the mentorship of our honorable Professor Mildred Dresselhaus at MIT, we have kept the mission of building the bridges from high schools, colleges to top universities and industry leaders, and kept the vision of training future scientists, engineers, and leaders to influence and serve the world. We offer all those programs at the shared educational facilities of MIT and Harvard university year round in Cambridge, MA, U.S.A.

Website: https://www.ardacademy.org; Email: admissions@ardacademy.org