Join Boston While Black & The Race Recovery Project for a Juneteenth Unfiltered Conversation on Black Freedom
About this event
EVENT LINK:
https://us02web.zoom.us/webinar/register/WN_hBqlDUe5QzSvjhggXZhOiA
Join Boston While Black and The Race Recovery Project for our June Unfiltered conversation on Black liberation and freedom. How can our community approach our liberation through different lenses-economically, politically, and psychologically? What historic moments, particularly during the Freedom Movements in Boston, can we look to guide us in our continued struggle for genuine liberation?
Come commemorate Juneteenth - the anniversary of the Emancipation Proclamation being recognized as law in Texas - and hear experts from across sectors imagine what freedom looks like for us in this current moment.
Imagining our freedom can be next to impossible as we are continuously immersed in an anti-Black society but, if we do a complete reimagining of our material reality it is within our collective reach.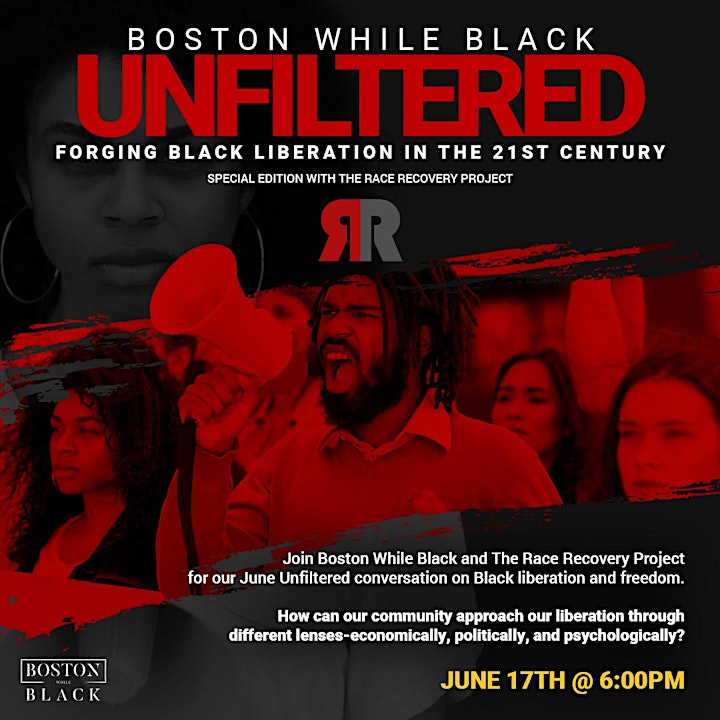 FEATURED PANELISTS:
Hodan Hashi, Co-Founder, Black Boston 2020
Jenee Osterheldt, Associate Editor & Culture Columnist, The Boston Globe
Kai Grant, Owner & Co-Founder, Black Market Nubian
Dr. Quito Swan, Director, The William Monroe Trotter Institute at UMass Boston
Dr. Jessica Isom, Community Psychiatrist, The Race Recovery Project