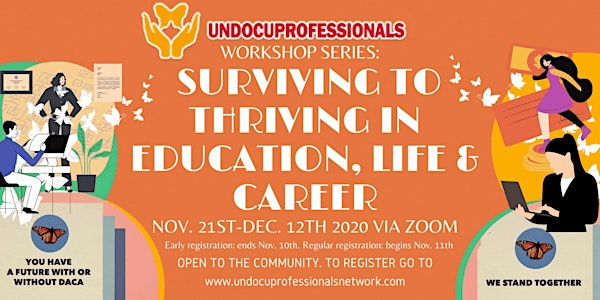 UndocuProfessionals Workshop Series BUNDLE (INCLUDES ALL 6 WORKSHOPS)
UndocuProfessionals Workshop Series Bundle (Includes all 6 workshops)
About this event
UndocuProfessionals Workshop Series: From Surviving to Thriving in Education, Life, and Career
UndocuProfessionals is thrilled to announce the launch of UndocuProfessionals Workshop Series: From Surviving to Thriving in Education, Life, and Career, which will run throughout November & December and will consist of 6 workshops, each with an extraordinary undocumented professional.
Who: YOU! And of course, you can tell your friend, co-workers, colleague, educator, and allies! Undocumented and immigrant families around the US are invited. Workshops are open to the community.
What: UndocuProfessionals Workshop Series: From Surviving to Thriving in Education, Life, and Career. All presenters are Undocumented Professionals bringing in their insight, knowledge, skills and experiences as they navigated their educational and professional journey undocumented. This registration page is to invest in a bundle. A bundle includes all 6 workshops. Please see the workshops included in a bundle:
11/21/20-Workshop #1: Prioritizing Mental Health & Self-Care
11/28/20- Workshop #2: Landing your Dream Job
12/3/20-Workshop #3: Your Professional Practice
12/5/20-Workshop #4: Making Things Happen for Ourselves!
12/10/20-Workshop #5: Saving for College
12/12/20-Workshop #6: We are all Entrepreneurs
When: The series will kick-off on Saturday, November 21st at 12pm PST. The rest of the workshops will continue throughout November and December and go live twice a week on Thursday 4pm PST & Saturdays 12pm PST.
Where: ZOOM! Link + password will be shared once you are registered to the workshop(s).
In each of these workshops, the topics we will discuss are focused on the various struggles we continuously face as undocumented, from acknowledging those struggles and moving on to figuring out how to go from barely surviving to thrive. Each workshop will consist of deep and candid conversations, with reserved time for questions and exchanges at the end.The undocumented community already had many challenges before the epidemic, and now with this pandemic, the challenges just got worse. It is time for us to take a deep breath and have a real conversation about how this "new but not new" to find a way to move forward.
So grab your phone/laptop and your choice of beverage; you won't want to miss any of these!
UndocuProfessionals Investment Services and Values (Please see flyer below for more info)
We intend to make the services provided by UndocuProfessionals accessible to everyone who wishes to join regardless of their economic situation. We are inviting you to be part of the UndocuProfessionals services and not only a workshop, but we are also asking you to be a part of community life, not just sharing stories and having conversations. Therefore, we trust that those who are financially stable will be willing to invest more + more and that those who are not as financially stable can support what they can.
Determining your contribution: Here is a process suggestion for determining your contribution: 1)Identify your economic situation; stable, moderately stable, grinding. 2)Based on your identified category and your interest in a workshop or bundle, choose the appropriate option.
Investment Options (Please see flyer below for more detailed info)
Pre-Registration ends: November 10th, 2020
Regular Registration begins: November 11th, 2020
Pre-Registration Investment Per Bundle starting at $30
Regular Registration Investment Per Bundle starting at $40
Let's invest in ourselves beautiful butterflies and in our communities because we deserve it!
Funds will be going to the UndocuProfessionals initiatives and the undocuprofessionals facilitating the services. Together we continue to empower our communities!
See you there!
JOIN, SUPPORT and LEARN MORE ABOUT THIS COMMUNITY! click here for more info